Camden 2nds. (6pts) 211 for 3 lost to Girton 2nds. (20 pts) 212 for 3
When the hot, weary numbers four and five returned to the front of the pavilion after an unbroken stand of 81 had taken Camden to 211 for 3 at the break we were a cheerful and elated side, although a little rueful that so few of us had got to bat on a surface playing so truly. We felt we'd done well; our man down from the firsts, Fahim Kawsar, had scored 66 with a series of stylish shots (and one disputed, by the opposition, natch, caught behind) before being dismissed with a kismet-like inevitability LBW (I feel that I don't need to identify the umpire!). Sourav Bhattacharaya had hit an impressive 40 the best characteristic being the straight drive before Nick Green (fabulous sweeping, hooking and cover driving, with one spectacular six) and Dave Mitchell (scratching around outside off and running lots of singles) came together to scramble to the end. We felt confident in our total, the opposition's so far unvictorious season, the strength of our bowling (although this may just have been the skipper's confidence), and the unprecedented levels of support having four fans. Well, alright, two wives and two largely disinterested children who all sloped off to a nearby hostelry and then home before either of their husbands had a chance to shine.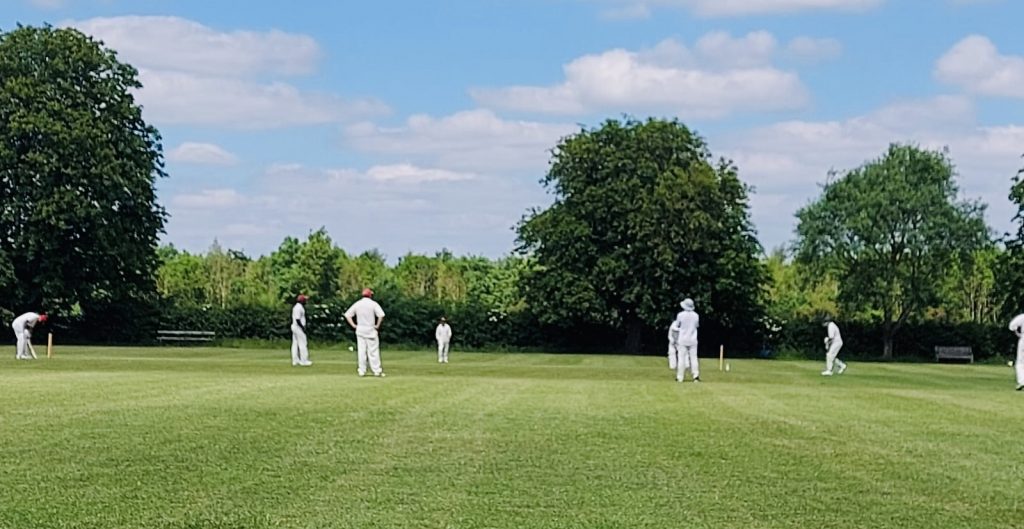 What we had not accounted for was their guy down from the firsts, who combined with Kenny Lewin, their tall, pacy opening bowler to take the game away….. The opposition innings started well; Ritesh Raghavan and Ginto George moving the ball around and finding real pace had removed the openers before Ginto achieved an improbable run out. Improbable, in that the run itself was improbable and had Kenny not turned it down the game may have played out differently. As it was, joined by Matt Hobbs, who already had a first team half-century to his name (would that we could we claim to have such resources!) the two took the game inexorably to defeat for Camden by seven wickets. Tidy spells by Hridoy Dutta and Martin Baker (also "down from the firsts") and second spells from Ritesh and Ginto couldn't stem the steady flow of runs plundered on a true pitch with a vast, and rapid outfield, a good eye and (in Ken's case especially) a powerful bottom hand. A special mention of credit must go from the skipper to Additional Player Neil Grover, playing for us for his fourth or fifth time, who this time took the gloves (and thereby saved my ancient knees!). However, in the end the best chance sailed over the head of Douglas, our shortest fielder and we came off after the second innings no less weary, but considerably more deflated (insert your own sizest joke here_____). So, another game we were very definitely "in" but came up short; we will start to win these soon (just wait 'til we get 'em back to Eversden!).
Score Card: https://camden.play-cricket.com/website/results/4182279
—
Dave Mitchell (June 17, 2021)