No home comforts as second-best Camden sink to second from bottom
Camden (5pts) 132-8 lost to Chippenham (20pts) 133-4 by 6 wickets
The previous day's rain had relented, but the clouds were hanging around to admire their handiwork as Camden returned to fortress Queens'. With no covers at the college ground, it was going to be a crucial toss. Alas, Kelsall's dusty fifty pence piece brought no luck for captain Redders, and Camden were asked to bat first on a moist pitch.
An opening pair of Sutton and Batley would rule out any agricultural shots, but the bearded greengrocer certainly did enough farming of the strike in taking the score to a modest 29-0 after ten overs. You don't need to have played this game for as long as Sutton to realise that a certain fatalism is inherent in the life of a batsman. Bound to be caught by the bloke in black trainers. Or, as opposing batsmen more cruel than your correspondent might say, bound to be caught by Kelsall. Or, in this case, bound to get out to a 16 year-old girl – hit on the back foot, LBW to a half- tracker that turned considerably more than it bounced. Umpire Vish, convinced of his theory that the way to bowl to Sutton (13) is badly, had no choice but to raise the finger.
Fox-Teece joined Batley, the pair adding forty rather tortuous runs in fifteen overs before Foxy (14) fell caught and bowled to some mystery spin. No mystery to Redders, however, the skipper flicking his first ball for four. If shots could wonder, this one would have wondered what all the fuss had been about. Unfortunately, Redders soon found out for himself, bowled for 14 by the returning opening bowler. Fahim and Batley followed, joining Sutton in doing their bit for inclusivity. Cricket, at least at this level, is a sport for everyone, and the visitor's teenage left-arm wrist-spinner added the catch of Robinson to impressive bowling figures of 3-27.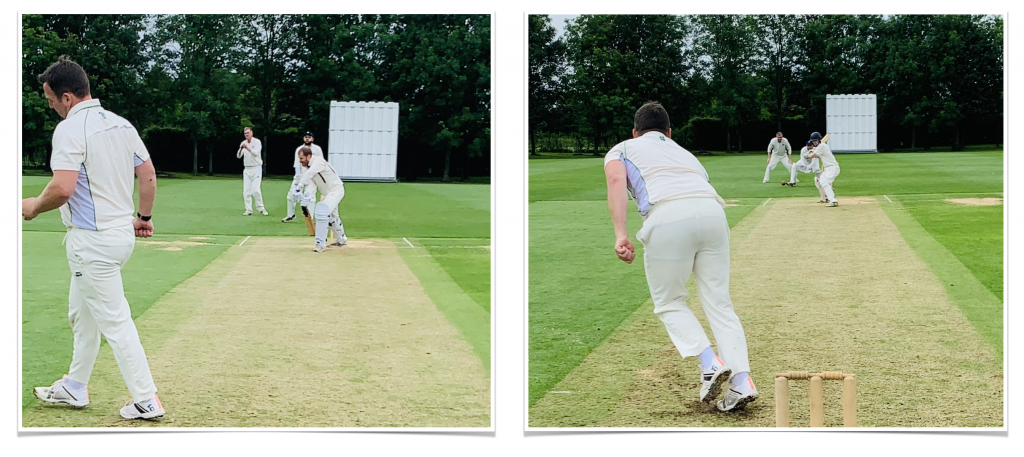 The home side's score didn't tick over into triple figures until the thirty-second over, and the fact that Batley's 42 came from 94 balls was a reflection of the tricky conditions and the accuracy of the bowling. At one point, the bespectacled student faced three consecutive maidens delivered by the visiting skipper, who conceded just eleven runs from seven overs. Bulusu hit a six and one handsome straight drive, but runs were still hard to come by – as 32 from the last ten overs attests. In a chaotic final over, Kelsall and Vish both achieved golden ducks. The latter, perhaps keen to atone for being run out, stayed as a runner for the final ball of the innings – meaning that padless debutant Kashish Singh was involved in a partnership of two runs despite never having entered the field of play. All of which meant that Camden had amassed 132-8, Bulusu finishing 20 not out.
It was left to Chippenham's thirteen year-old opener to show an experienced Camden batting line- up how to bat. The youngster even had the good sense to pick out Kelsall at fine-leg – Kashish, cap number 157, the unlucky bowler. Kelsall's disappointment didn't adversely effect his bowling. The bustling education executive took two terrific wickets, caught by Robbo in the gully and Foxy behind the stumps, recording figures of 8-1-24-2. Bulusu took a smart catch off Vish (1-30) and, with 87-3 on the board at the twenty over mark, it was clear that the visitors would have to be bowled out if Camden were to win. Baker (1-24) was summoned to confuse the teenage opener into a caught and bowled for an impressive 40 from 49 balls, but thereafter the ball didn't go to hand – and when it did, Fahim, Redders and Sutton couldn't hold on. With Redders unable to reprise his golden arm act, Camden were eventually put out of their misery in the thirty-second over.
A six-wicket loss sees Camden drop into the relegation zone, and debunks the Foxy lucky charm myth. Meanwhile, Robinson's record now reads played 6 lost 6. The ex-former-ex-all-rounder could rightly point out, however, that this loss – much like all the others – had been a team effort.
Man of the match: Hugo Batley
Score Card: https://camden.play-cricket.com/website/results/4160661
—
Will Sutton (June 23, 2021)