Batley's battling 50 not enough to get Camden over the line

Camden (8pts) 140 lost to Sutton (20pts) 174 by 34 runs
Ali Khan was just about on time, Captain Redders was sporting some brand new threads and the sun beat down as Camden welcomed Sutton to a picture perfect Queens'. The Camden boys could be forgiven for thinking that wonders will never cease – until the visiting captain won the toss and decided to bat first, that is.
Batley, starting with a maiden, took the new ball with Kelsall. Asked if he would like a slip, Kelsall opted instead for a gully – only to watch in anguish as his first ball was steered through the vacant slip area. It was to be one of those days for the bustling education executive, going for sevens in five wicketless overs. With the scoreboard reading 51-0 after ten overs, Vish replaced Batley. "Look at last week's scorecard and find the longest name" had been Redders' response to a call of "bowler's name?" from the pavilion, and the scorer was to get plenty of opportunity to spell Chandrasekaran (3-23) as Vish took three quick wickets. Karan would have joined in the fun had Sutton not dropped an absolute sitter at mid-on – a position that the bearded greengrocer had hubristically taken up to spare Kelsall any more blushes.
With the ball still swinging, it was time for the sometimes golden arm of Redders, and the skipper wasted no time in finding the outside edge with his first ball. The visiting fenlanders weren't wasting time, either – reaching 130-4 after 25 overs before Ali Khan took a steepling caught and bowled. As had been the case earlier, three wickets then fell for the addition of just three runs. It was a fine passage of play, involving two wickets in an over for Redders (3-30). The first says 'bowled' in the scorebook, but came from a wide leg-side full bunger, while the second came courtesy of a catch – yes, a catch – for Kelsall. A more straightforward dismissal followed for Khan, and the home side could suddenly look forward to an early tea. Indeed, the innings did end prematurely – Khan taking the final two wickets to end with figures of 4-29 – but not before another 31 were added to take the visitors to 174 all out in 32 action-packed overs.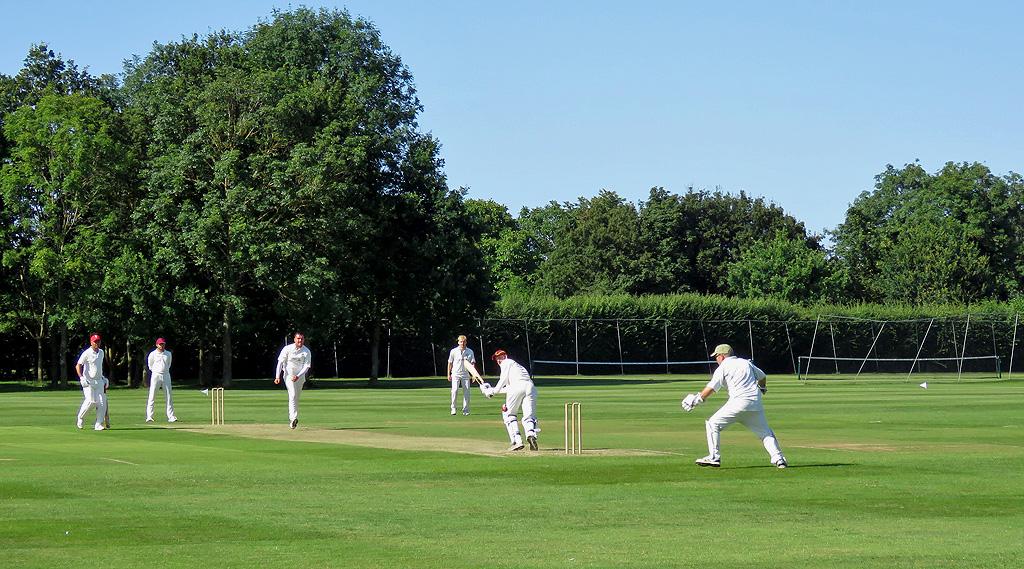 Fahim and Sutton started at a similar pace, adding 22 before Fahim (15) gloved behind in the fifth over. Batley joined Sutton and the pair had to contend with some accurate bowling and an ear- splitting alarm which was a little late to have been triggered by Redders' earlier burgling of a wicket. At 48-1 off 15 overs, a much-needed refreshment break appeared to galvanise the batting duo – 37 coming from the next 5 overs before a promising partnership of 63 was broken when Sutton (26) slapped a short ball to mid-wicket. A frustrating dismissal, but it had nothing on what was to befall Redders. Opinion was divided as to who was to blame. On the one side, Redders was convinced that the call for a second run wasn't Batley's to make – and Batley perhaps should have known better than to assume his skipper's idea of a run chase should involve running or chasing. On the other side, the overwhelming consensus was that responsibility could be put at the door of Redders for 'running' with all the urgency of a man who wouldn't mind waiting for the next bus. Hodsdon, a late replacement for the hamstrung Robinson, joined Batley – the pair taking the score to 111-3 at the second drinks break. Some of those drinks were eventually kept down by Batley, who by now was struggling in the heat. Like the late Dean Jones in Madras all those years ago, the studious Batley vowed to carry on – bringing up a battling half century with an on- driven four.
With the home side batting all the way down to number eleven, ten overs to get 64 didn't feel insurmountable. But few Camden games these days are complete without a batting collapse, and the latest effort began with the wicket of Hodders – LBW for 7. Batley followed – exhausted – for 56 and Khan, Bulusu and Vish didn't hang around for long. Justin Lee, fresh from Sunday's Casuals violence, was run out for 14 before Camden's fate was sealed with the wicket of Karan – bowled for 5. The brutal scale of this latest collapse? 7-26 in less than seven overs. 85-1 followed by 55-9.
Thirds' statistician Rachel Riley was understood to be too upset to respond to questions of where this week's collapse ranks in this season's hall of shame. Meanwhile, elderly former captain John Sutton could only apologise for failing to capture Kelsall's catch on camera: "No lens is wide enough. But I woz there – it really happened."
Man of the match: Ali Khan
Score Card: https://camden.play-cricket.com/website/results/4160681
—
Will Sutton (July 17, 2021)