Camden vs President's XI at Queens'
Ah, old style cricket. A proper gazebo, plentiful food, the gathering of the clans and some zinging ringers. Weather: warm but not too hot. Pitch: hard and true. Outfield: smoothly groomed but slightly resistant. All was well with the world. An earlyish start. Well, we began fashionably late, thirty minutes after the advertised time but nevertheless a morning pitching of stumps. The Presidents' XI, of which your correspondent was the non-batting number 11 specialist, batted first. We all welcomed back local boulevardier Griggsy, who since eschewing the warm embrace of Camden has set himself as a coffee magnate, running boutiques across south Cambs. Not quite everyone gave him a such a fulsome welcome, however. Foxy found that his morning's work was done after three minutes, two runs and a clattering ball-stumps interaction. Believe it or not, that was the highlight of his day.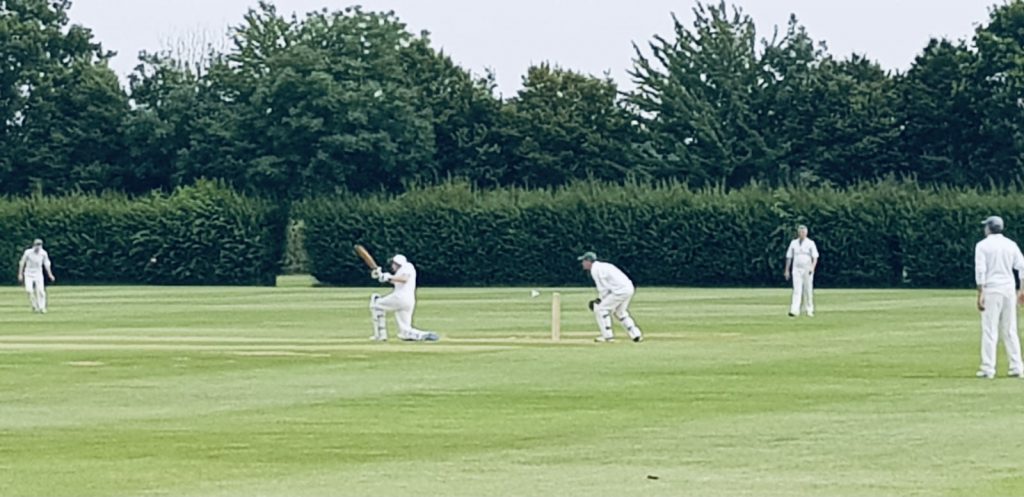 There must have been something in the water – LSD, perhaps – because what happened next puzzled seasoned Redfern followers. Twos were being run. True enough, with a little more zest, they might have been threes but even so. The First's skipper breezed to a quick thirty-odd before being undone by the deadliest ball in village cricket: the slow long hop. With most of Newnham to aim at, Redders picked out the sole legside fielder, Griggsy, to give Ali A a wicket. No matter, the game was moving on. Fahim continued his recent run of silky form, falling just short of another fifty, undone by the Coteman-Austin combo. Note to Redders: is this the largest age differential ever between catcher and bowler? 48 years I believe.
Time for Sourav and Vish to take the reins. Before today, neither had scored a Camden fifty. Fortified by an excellent lunch provided by the materfamilias of the Mitchell family, to whom grateful thanks are offered – more for the production of the food than the President, it has to be said – the pair stroked and sauntered their way to their half centuries. Not being used to all-day matches, the batting side struggled to find the right algorithm which provided a total robust enough to defend but not too high to be off-putting. 251 was reached and it was back to the gazebo for a breather.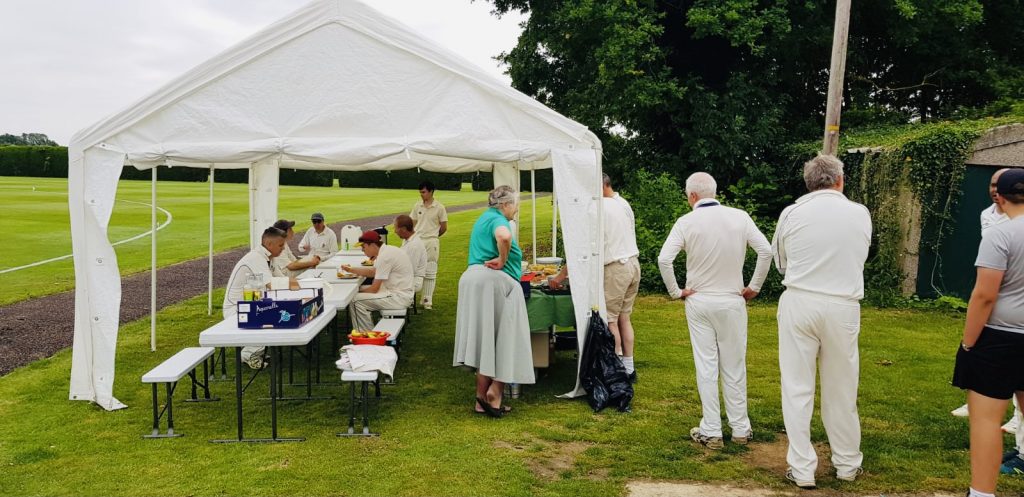 Opening for Camden: David Pimblett and Ali A, Liam offering his off spin to open the innings. The only thing that seemed to trouble the pair was running between the wickets. The youthful Ali's scampering was more likely to give David more problems than the bowling. At the other end, retired rug and carpet supremo Robin, playing his first match in five years. First ball: decent length, nice shape, edge found, ball flying to the keeper. Who writes your scripts? I don't know but Hodders didn't read it because he grassed the chance. 100 runs later, David walked off, his work done…
Ali gave Robin his comeback wicket when, clearly under the influence of watching Redfern for the last ten years, popped up a dolly to Vish at extra cover for 17. A couple of overs later Robin asked me if it was I who had caught out Ali. For those of you who haven't met Vishwanathan Chandrasekaran, he and I differ on a number of points. He is half my age. He is lithe and nimble in the field; he has a shock of black hair, rather like Shoaib Akhtar but with a PhD; he's probably half my weight. Other than that, we could be brothers.
Two of our welcome guests, James Barker and John Richer came and went, the latter to stunning catch at slip by Foxy. Unfortunately, this hastened to the crease a third invitational player, Will Dobson, a cricketing missionary if ever there was one, having established an informal league out in Lebanon. After an hour of Will, our boundary riders were scattered so far and wide that they might have been mistaken for missionaries too. 98 surgically-precise runs were accumulated with so much ease that it didn't feel that painful. With Will timing his drives with outfield-scorching perfection and David thumping anything way wards for four, the end came mercifully quickly for the fielding team. So much for the head scratching and beard stroking over the declaration: it could have been twice the target in half the time and it would still have been reached. There are times when you bump up against a better player and this was one of them. Happily, he's a nice chap and like all of our guests, always welcome back.
Will was finally out when Hugo held on at long off; shortly after David reached his hundred and returned to the pav leaving the President four overs to scratch up half a dozen winning runs.
500 runs, an excellent lunch and tea, good company, cold beers afterwards and decent chat. Well done for the President for putting it on, huge thanks to our guest players and a Michelin star to the President's mother for her culinary contribution.
Same again next year?
—
Nick Austin (July 26, 2021)