Last wicket heroics not quite enough for plucky villagers
Camden (20pts) 163-2 beat Witcham (5pts) 162 by 1 run
A day of unrelenting drama began with the news that Captain Redders had dropped out. Those who had witnessed his innings in the previous day's match against a President's XI were surprised to learn that it was due to a Covid scare and not an injury incurred while running three twos off his first three balls faced. Thankfully, the Covid test came back negative and the skipper could bring little Lara to steadfastly ignore Camden playing host to Witcham. Adler, promoted from a form-finding mission with the Second XI, took the reins and chose to bat first on winning the toss.
Fahim (8) struck a sumptuous drive and looked in tremendous nick before flicking to square leg, where a low catch was held. Batley joined Sutton in a reprise of last week's partnership, and boundaries were again hard to find. But the pair ran well and were content to tick things over until sixteen was taken from the sixteenth over. Sutton unwittingly brought up his half century before being stumped for a far from chanceless 51. The second wicket partnership, containing just five boundaries, was worth 86 in twenty-two overs. 104-2 with eleven overs to go. Plenty of time for a collapse, regular readers will no doubt be thinking – but the only collapsing was to be of a more serious nature. Justin Lee, 15 not out having been promoted in order to add some senseless violence to proceedings, collapsed in agony as his achilles pinged like an NHS app. Ali Khan joined Batley, who had by now passed fifty, and the pair – in front of a crowd boosted by the appearance of Dave 'Wazza' Warren – scrambled Camden to a total of 163-2, Batley finishing with a classy 74 not out.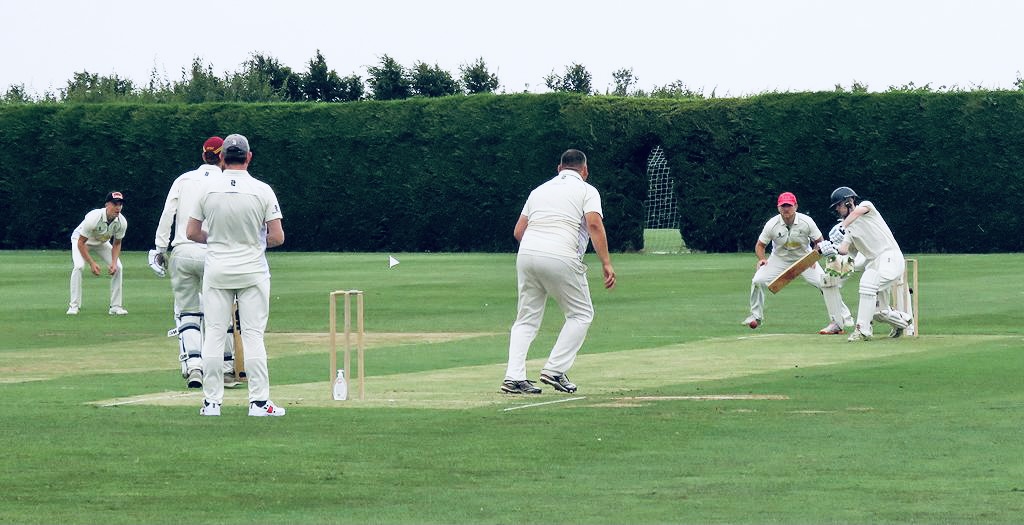 With Justin having been whisked off to A&E in the team ambulance, the home side would be down to ten in the field and Captain Adler would have to add keeping wicket to his many duties. Having been left – in the fine tradition of the Thirds – a spin-heavy bowling attack, the Big Aussie Unit had no choice but to press Batley back into action. Redders had by this stage retreated home, but would no doubt have sanctioned this move as Batley hadn't opened the batting. At the other end, the Bulusu upgrade debuted seam mode. With the first six overs yielding 36, Adler turned to Khan and was immediately rewarded when the diminutive off-spinner found himself on a hat-trick. A double-wicket maiden would have to suffice and, with Karan on at the other end, it was suddenly a different game. Consecutive maidens were followed by Khan taking the prized wicket of the visiting opener, who had scored 40 out of 43 when he was smartly caught by Sutton. 43-3 soon became 53-5 as Karan was rewarded for bowling straight. Witcham's captain appeared to be digging in for the draw, but the visitor's number seven had other ideas – albeit ideas based on one idea: hit the ball as hard as possible. With the scoreboard reading 72-5 after eighteen overs, Adler – with two overs each for Khan and Karan up his sleeve – rolled the dice. More spin, in the shape of Martin Baker and Priyan Davda – the pair soon combining to effect a run out. It was to be the first of four wickets in four overs as Davda dislodged the bail(s) twice, while Fahim surprised himself by clutching a catch to his neck to reward Baker with a wicket. 88-9, the dangerous number seven dismissed, numbers ten and eleven at the crease and – happily – Justin, in a surgical boot and on crutches, back to see his team wrap up a comprehensive victory.

That was the theory, anyway. In reality, the last wicket proved alarmingly elusive and Justin's medicinal pint would have to wait. It didn't help that ten men effectively became eight for the home side – Robinson's TFC [Thanks For Coming] proving too much for the ex-former-ex-all- rounder's hamstring and Fahim picking up a groin strain. Still, Adler could call on Khan (8-4-16-3) and Karan (8-3-31-2) to polish things off, surely. Nope. It would have to be Batley or Priyan (8-1-29-2), then. Nope – and by now the extraordinary prospect of Camden contriving to lose had hovered into view. The penultimate over, bowled by Batley, had leaked seven runs, leaving the visitors requiring twelve to win. Over to you, Baker. Left-arm lob is nobody's idea of death bowling, and when Witcham's twelve-year-old number eleven – on strike after a single – hit the second ball of the over for four, it looked like a miscalculation to wind up with the wildlife supremo having the responsibility of bowling the final over. Two more runs followed as Khan lacked the height to pouch a catch at longish-on. Deep breaths, Martin. A precious dot ball. Well bowled, Martin. Followed by a two. That's alright, Martin. It was all down to the final ball. Three to win, two to tie. The field was scattered, the instruction to save two. Up went the ball, met with a drive to straightish mid-wicket. Straightish to Batley. A clean pick-up. The batsmen turned for a second. If memories of Edgbaston 2005 had been evoked, it was now the 2019 World Cup Super Over. Batley arrowed in the throw. Adler just had to take it – on the half volley – and it was a certain run out. Nick Austin later likened the aftermath to "a JCB joyriding over the stumps," and if Adler had made a mess of the stumps, then it was emblematic of how his side had contrived to make an unholy mess of winning the match.
It was all too much for the inconsolable Witcham youngster, the pride of scoring 21 mixing with the crushing disappointment of failing to get his team over the line. The tenth wicket had put on a truly incredible 74, and the number ten – who finished 45 not out – remarked that it was "the most fun I've had on a cricket field in a very long time." The sheepish looks of the Camden boys told a different story – one of relief at finally securing a vital win and of guilt at teaching a twelve-year old the cruel realities of the game. Still, this was no tragedy, and the young hero was carried aloft from the pitch by his grateful teammates. It should be noted that all ten of Camden left the pitch unaided, and credit must go to Baker, Batley and Adler for holding their nerve in the white hot moment of that last ball.
In wishing a full and speedy recovery to Justin, your correspondent speaks for all at Camden.
Man of the match: Ali Khan
Score Card: https://camden.play-cricket.com/website/results/4160776
—
Will Sutton (July 24, 2021)