Vish's stunning caught and bowled lights up rainy day
Camden (10pts) v Coton (8pts) 132 all out – Match abandoned
As if having a week's holiday ruined due to an infected wisdom tooth wasn't painful enough, your correspondent found himself at Queens' for Camden's return fixture with bogey team Coton.
Down to ten men – due to a false assumption that Nutty was available – and conceding 23 from the first four overs, the home side might have been forgiven had heads begun to drop – but Batley and Vish had other ideas. In the event, nobody else needed to be in on those ideas – the pair bagging caught and bowled chances before Vish took a catch in the covers off Batley (2-27). 38-3 from nine overs, but we have to return to Vish's no-look caught and bowled effort. Those close to the action described Vish's reflexes as like something from The Matrix. Your correspondent – perhaps relieved to have missed such a jaw-dropping catch – had momentarily taken an eye off proceedings, but heard the shot and can attest to it sounding sweetly-timed. By the time your correspondent looked up, Vish was celebrating – all the more as it was Coton's ever-popular Kiwi that was sent on his way. On his way to Coton, it transpired – to look for a better match ball with which to exact his revenge.
Somewhat of a recovery was staged by the fourth wicket pairing, taking the score to 66-3 after eighteen overs before Karan and Redders combined to rip through the visitor's youthful lower- middle order. Karan picked up a couple of LBWs, while Redders – as well as rattling the timbers and inducing a lofted drive to Batley in the covers – added to the day's caught and bowled collection. Thereafter, against Redders and Tarun, it was to be somewhat of a repeat of last week's tail-wagging – the visiting captain finding an ally in his number ten. From 82-8, Coton had put on a further 39 for the ninth wicket before Vish (2-30) and Karan (8-2-15-3) were recalled to polish things off – Karan bowling the number ten, and the previously hamstrung Robinson taking a lithe slip catch to end the innings, the visiting skipper last out for an excellent 57.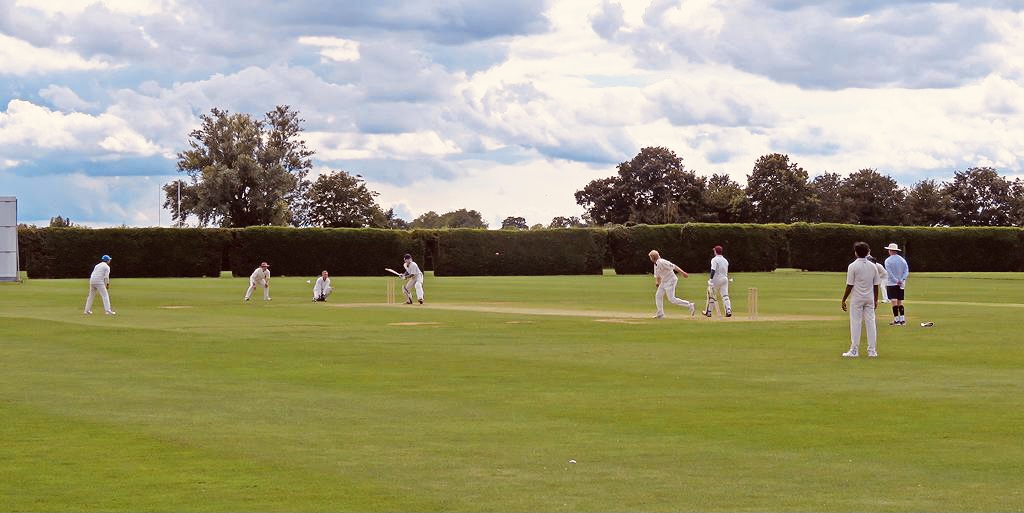 Given the opposition and the fact that Camden were a man down, it would be churlish to say that the home side should have been chasing considerably fewer than 133 to win – and in the end it was academic, as heavy rain led to an abandonment without a ball being bowled in the second innings. In an inversion of the previous week, those seeking refreshment in the Red Bull arrived just in time for the sun to come out. Ten points against Coton represents something of a triumph, and with relegation rivals Chippenham picking up nine points in another abandoned game, Camden have advanced their lead to as much as five points.
The popular Kiwi was unavailable for comment, but Camden statistician Rachel Riley is said to be looking into a metric for determining just how seriously he takes Junior League 1 North cricket.
Score Card: https://camden.play-cricket.com/website/results/4596564
—-
Will Sutton (August 7, 2021)