Heavy defeat leaves Camden in the mire
Camden (7pts) 111 lost to Madingley (20pts) 201 by 90 runs
A somewhat depleted Camden signed off at home by welcoming Madingley to Queens'. The welcome extended to Captain Redders losing the toss and the rare sight of David Mitchell with the new ball in his hand.
Such largesse couldn't go unrewarded, and the amiable Club President was gifted a maiden Thirds wicket – in his 153rd appearance – when the first ball of the match was caught by Redders at mid-off. As golden ducks go, this was every bit as tragic as Haseeb Hameed's first-baller in the Test. Thereafter, with Liam Wallman bowling well but with no luck, a score of 350 didn't seem out of the question when the visitors – in just twelve overs – were putting on 91 for the second wicket. That stand was broken when Mitchell held on off Redders, and when Vish came on to bag two wickets in his second over, the home side were back in the game. Or at least less out of the game. No, Camden really were back in the game – 101-4 becoming 118-6, Vish (3-16) adding to a good day's work and Krishna taking a first ever Camden wicket. The Bulusu upgrade, operating in off-spin mode, was to take another – finishing with figures of 2-43, and answering the call for a bowler to add to the three that Camden were fielding. With Vish bowled out, Redders turned to his vice captain. If photographs can be believed, Adler's bowling was somewhat of a tribute to fellow Queenslander Jeff Thomson – but at least that made a change from the majority of the home side's senior players, who have long since been rolling out a tribute act to their former youthful selves. With Madingley having reached 174-7 from 34 overs, Redders (3-31) returned to claim a wicket, well caught by Adler, with his first ball, before adding another in his final over. The 200 came up in the final over, bowled by Liam, and the innings came to end on 201 when the one- man youth policy effected a neat run out.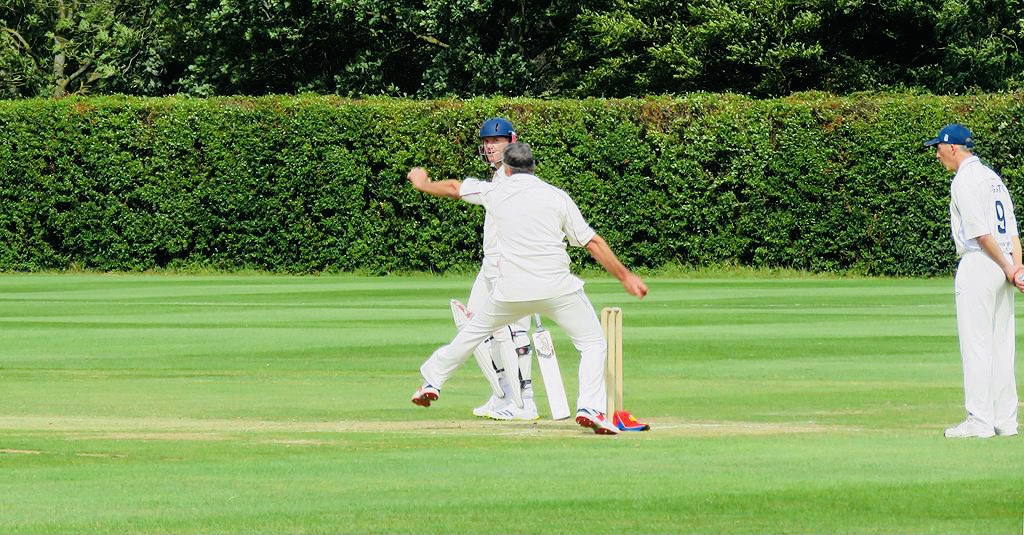 Fahim spanked the first ball of the reply for four and, when Adler hit two meaty cuts of his own in the second over, it looked like Camden were in the mood. Batting at three, Sutton's mood had certainly improved, having – at the fourth time of asking – survived the first over of an innings against this opposition. Alas, it was to be a mood shattered as surely as the Big Aussie Unit's stumps – "I don't know what I did wrong, apart from not hit it" – and further darkened by Sutton's running out of Fahim. The bearded greengrocer was soon running out of partners, as numbers four, five and six – debutant Sourav Bhattacharya, Krishna, Robinson – all fell to the same bowler without a run between them. Sutton's response to being 22-3 and 32-5 was to score 17 from ten balls, and Redders – hitting his first ball for four – joined in the fun. It was to prove less fun, however, when the batsmen were at the wrong ends – not due to any more risky singles, but because Sutton was getting tied down by some wily leg-spin and the skipper was swinging and missing against the opening quick. Still, the pair were able to bring up a fifty partnership in the nineteenth over, and Camden – at 83-5 – could just about lay a claim to being in the game. That claim lost some credibility when Sutton, having reached 30, got in a terrible tangle with a pre- meditated sweep and was plumb LBW. If Camden were going to win, it would take something remarkable from Redders. Perhaps, in the context of an innings in which only two batsmen made double figures, 40 from 37 balls is fairly remarkable – but the skipper's wicket, followed shortly afterwards by that of Vish, put paid to any lingering hopes of one last moment of drama on groundsman Mark Reader's patch.
Or did it? There was still time for Mitchell to briefly threaten a long-standing Thirds record held by Robinson – that of the longest duck, the ex-former-ex-all-rounder's record standing at a staggering 45 balls. In the event, the portly run-machine – after a disputed four byes off a no ball – got off the mark with a single from just his 25th ball. Camden, meanwhile, had got nowhere near the mark – the curse of Nelson striking to bring an end to things with the home side trailing by 90 runs. In truth, this shellacking could have been worse and, if the post-match vibes in the Red Bull were anything to go by, team spirit remains undimmed ahead of the must-win trip to relegation rivals Chippenham.
Man of the match: Andrew Redfern
Score Card: https://camden.play-cricket.com/website/results/4160803
—
Will Sutton (August 14, 2021)