Nutty and Vish star in relegation dog fight
Chippenham (8pts) 125 lost to Camden (20pts) 148 by 33 runs
On the day of The Hundred finals, it was perhaps fitting that the latest – and most vital – chapter in Camden's quest to retain CCA Junior League 1 North status would be abridged. With drizzle in the air, the visitors were asked to bat first in a 30 (6 ball) overs-a-side contest. Like The Hundred, Camden are attracting a new audience, and – undeterred by last week's fare or the inclement weather – the Ipswich branch of the Camden Supporters' Club was again represented by octogenarian Peter Sadler.
Nutty shook off a hangover to open the batting with Redders and, from the moment the Netherhall man spanked ten from the second over, it looked like the pair might score as many runs as their combined age. In the event, they fell 56 runs short when – with the score on 44 in the 9th over – Redders (18) was brilliantly caught at square-leg. Sutton could only add three before gloving behind, but Nutty found a more reliable ally in Fahim. Fuelled by the previous night's club curry, Fahim cracked six boundaries and was even able to run a three. Runs flowed as Nutty brought up a classy fifty. In just ten overs, 58 had been added for the third wicket before Fahim was bowled for an excellent 31. With seven overs remaining, Camden were well-placed at 110-3 – but Nutty's dismissal, for 55, sparked yet another collapse. Batley (8) was needlessly run out, Robinson bowled for 5. Vish holed out for 1, Kelsall was bowled for a duck. Hodsdon was run out for 4, and when Liam Wallman fell the same way for a crucial quick-fire 12, the visitors had been bowled out for 148. It was the kind of score that on other days – on other grounds – might have been enough in a forty over match, but the pitch remained remarkably firm and Camden would need to bowl well.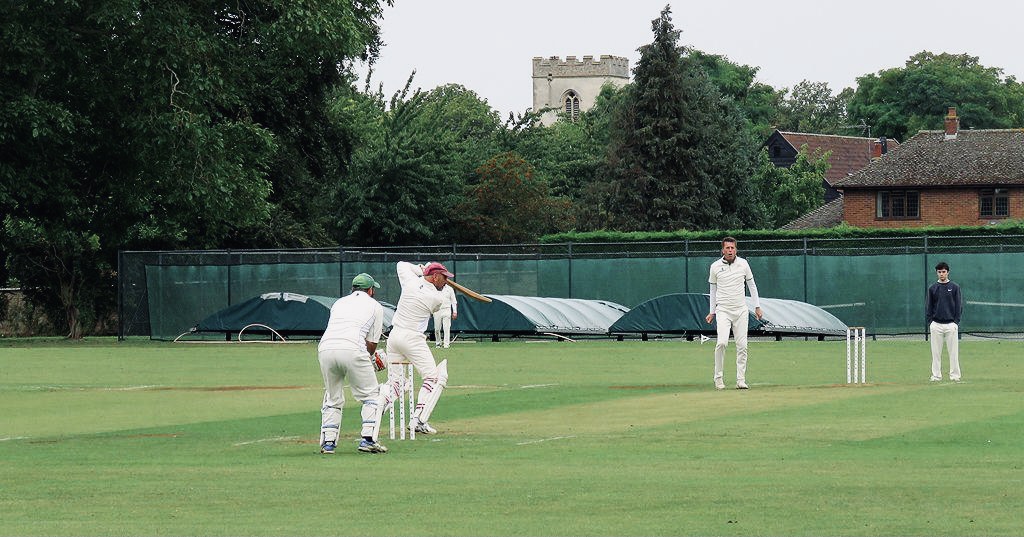 After last week's dearth of bowlers, Captain Redders had the luxury of six options. Robinson was not thought to be among those options, but the ex-former-ex-all-rounder needn't hang up his bowling boots yet. With the sawdust not meeting the exacting standards of Redders – or, it can be assumed, those of former Camden mystery spinner Alec Armstrong, who famously brought his own – Vish was rueing forgetting his spikes. 'In a manner which was never explained in the story, the boots possess special abilities.' If it's good enough for the wikipedia page for Billy's Boots, then it also applies here, as Vish stepped into Robbo's magic boots. A father and son combination soon found their off stumps pegged back, and Vish had figures of 2-1 after his first three overs. At the other end, Kelsall found bounce but little consistency – but it didn't matter when Vish was wreaking havoc. Sutton took a sharp chance at point to see off Chippenham's opener, but Vish saved the best for last – cleaning up the home side's skipper with an absolute ripper to finish with figures of 6-2-16-4. It was as good a spell of fast bowling as you could hope to see, and with 29 wickets, Vish is now the league's joint-highest wicket-taker this season and, with a game to go, threatens a Thirds record of 31.
58-4 from twelve overs. The artificial light of the electronic scoreboard may well have taken over from what little natural light filtered through the clouds, but it had stopped raining and there was no consideration of abandoning the game. Fair play, then, to Chippenham, as the hosts would have benefitted from a cancellation or an abandonment. There was still a game to be won, as Batley and Karan went wicketless and the score crept up to 85 in eighteen overs. Time for Redders and his golden arm, and the skipper didn't disappoint – his first ball full toss somehow scooped off the back of the bat to Hodders behind the stumps. With ten overs to go, the hosts needed 54 to win with five wickets in hand. It was set up for the kind of defensive masterclass that elderly former Thirds captain John Sutton used to specialise in, and on the boundary the railway enthusiast was – in football manager terms – kicking every ball. As he had in a 30-year batting career for Camden, it must be said. Redders, naturally, has a more laid back approach to things. Having already claimed a second wicket when Kelsall took a fine sprawling catch, the skipper was notably committed in the field, however. One boundary-saving tumble left the skipper with a jarred back, and Karan 'Deadly' Derekar was recalled to the attack – immediately testing out Redders' mobility at mid-on, where the catch was taken. The run rate had risen above eight an over when Redders returned to replace Batley (0-24). It was to be an eventful return as, first Robinson – by this stage reunited with his magic boots – took a catch, before Sutton's near-perfect throw from the deep led to a run out. With the last wicket pair at the crease, Chippenham needed 39 from four overs. Stranger things have nearly happened this year – and this is Camden, remember – but with Karan finishing up with the impressive figures of 6-2-9-1, and Kelsall only conceding two from the penultimate over, it was left to Redders to defend 26 from the final over. Hodders had kept splendidly in tricky conditions, and it was the burly Marlburian's stumping that wrapped up a priceless victory, giving Redders (4-29) a twenty-fifth wicket of the season.
The margin of victory was 23 in the end, and 20 points puts Camden four points above the drop zone with a game to play. That game is away to winless Wisbech, while Chippenham play promotion favourites St Giles. In the absence of the fat lady, fenland crooner Matthew Fox-Teece is thought to be warming up the vocal cords.
Man of the match: Vish Chandrasekaran
Score Card: https://camden.play-cricket.com/website/results/4160793
—
Will Sutton (August 21, 2021)