Vish ties Baker record in safety-guaranteeing win
Wisbech (4pts) 152 lost to Camden (20pts) 248-3 by 96 runs
With Wisbech's 1st and 2nd XIs playing away, Camden were rewarded for the long trip north with a chance to play on the main square. On the very edge of the square, in fact – with a temptingly short boundary on one side, and used pitches stretching almost as far as the boundary on the other side. The pitch itself looked an absolute belter, and Captain Redders – once he'd removed a dog turd from the outfield – had no hesitation in choosing to bat first on winning the toss.
In doing so, the skipper spoke for himself as well as his team. In keeping with a revolving door policy at the top of the order, Nutty's reward for last week's fifty was to be replaced as Redders' opening partner by the returning Adler – and against some wayward bowling the pair raced to 30 in four overs. All the ingredients of a Redders innings were there – the booming drive, the ambled twos, the offering up of a dolly of a catch – so it was perhaps only a matter of time before he missed a straight one. 15 from 14 balls was perhaps emblematic of Redders' season with the bat, and the skipper would have to watch someone else get 'his' runs. At least he would have some company when kicking himself, as Adler – having reached a commanding 21 – slapped a drive to cover. Sutton, to the amusement of his teammates, had yet to get off the mark – and was joined in the middle by Nutty. Despite an upset stomach, the Netherhall man was soon tucking into the bowling and, with Sutton's first eleven runs coming in singles, the visitors were ticking along nicely. The hundred came up in the eighteenth over, and the third wicket stand had reached 80 when Nutty (39) fell to a smart catch at mid-on. The visitors looked well set for a big score – even more so when Batley came out all guns blazing, racing to 20 and threatening to overhaul Sutton's score. Sutton's response – once afforded some of the strike – was to score 36 from 18 balls, bringing up a fine half century with a straight drive and even hitting a six over extra-cover. The runs continued to flow. To the tune of 248-3 – a season's best – with Sutton finishing on 88* and Batley 62*, the pair having put on 125 – another season's best – for the fourth wicket.


The bearded greengrocer's first visit to Wisbech, some twenty-odd years ago, hadn't been so fruitful, run out without facing a ball – so this innings, in front of his adoring(ly bonkers) parents, must have tasted all the sweeter. Almost as sweet as elderly club cake-maker Hilary Sutton's latest apple and cinnamon effort.
Fortified by cake and with the comfort of a huge score on the board, Kelsall and Vish took the new ball – the latter hunting the three wickets that would break Martin Baker's record of 31 in a season. Krishna's juggling act at point almost gave Vish a wicket, but Camden would have to wait until the eighth over before that man Vish cleaned up the opener. Baker's record was equalled in Vish's next over, and in fine style – an out-swinger finding the edge and Clarke taking an excellent catch as the ball died on him. The 'keeper had clearly benefitted from being warmed up by Kelsall, and went on to snaffle another sharp catch off Karan. The home side were in all kinds of trouble when, with the score having reached 80, Batley claimed two wickets in his fourth over – the second of which was caught by a diving Redders. Upon seeing a speck of blood on his new threads, the skipper didn't cry like an infant – but felt the need to hobble off in search of matron, or a plaster or something.
Meanwhile, Wisbech's remaining opener had been playing a lone hand. It looked for a while as if he had at last found someone, in the shape of the number seven, who could stick around. Batley (3-38) was hit for sixteen in an over, but came back with a cunning slower ball that turned a mile. At 124-6, the game was all but up – something underlined when 'Deadly' Derekar (3-35) bowled a double-wicket maiden. All that was left was to see if Vish could claim a thirty-second wicket of the season. Contrary to the ethos of Redders' Camden, Vish protested that he was more interested in winning the match than any personal statistical triumph. Figures of 2-19 stand out in the context of a high-scoring match, and are emblematic of how well the paceman has bowled all season – but, alas, it was not to be. Instead, with Wisbech a man down due to the irresistible pull of watching Peterborough United lose, it was left to Krishna to wrap up a 96-run victory – bowling the hosts' opener for an impressive 77. It was the Bulusu upgrade's first ball, and meant that Fahim alone got to enjoy the longest TFC of the season.
Score Card: https://camden.play-cricket.com/website/results/4596632
Men of the Match: Hugo Batley and Will Sutton
As the sun came down on a beautiful late-Summer's day, the curtain came down on the 2021 league season – and the Camden boys, enjoying a post-match drink, could reflect on a satisfying end to what has been a thoroughly enjoyable season. From the last-ball drama of the opening day to the back-to-back wins that staved off relegation – it has been a wild ride. A season of ten losses, countless collapses, and an attempt at losing an unlosable match. The year of Kelsall's butter-fingers, Adler's dislocated digit, Robbo's hamstring, and Justin's ruptured achilles. And who could forget Redders' hat-trick? Or Krishna's run out? Or Vish's astonishing caught and bowled? Or, for that matter, Mitchell's wicket? And what about Robbo's magic boots?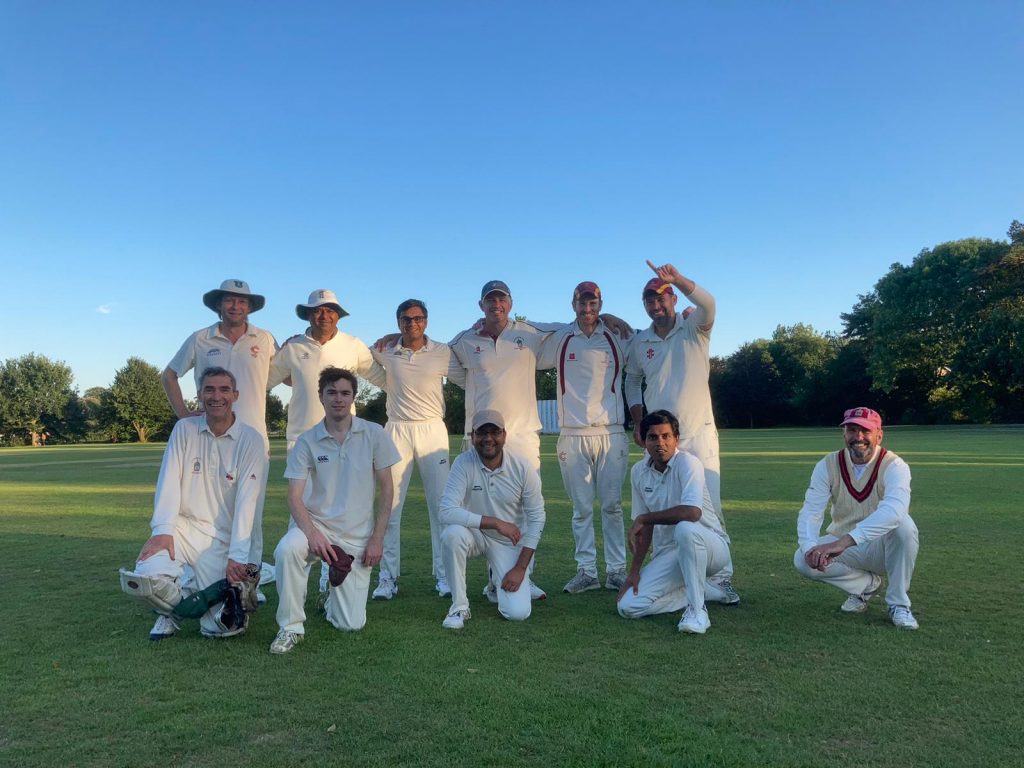 Above all, it was a season in which the bowlers starred. Vish, with his record-equalling haul, was the stand out, but Redders (25) and Karan (23) both recorded personal bests, Kelsall bowled whole-heartedly, and Ali Khan bowled terrifically in his three appearances. They were all too often let down by the batting. That only four batsmen – Batley, Sutton, Redders, Nutty – averaged over twenty can be partly attributed to playing on some very sticky wickets and, in fairness, to the quality of the bowling in Junior 1 North – but just one successful run chase tells a story. As does a look at the batting collapse hall of shame:
Witcham (away)
Coton (away)
Cottenham (away)
Madingley (away)
Chippenham (home)
Bottisham & Lode (home)
Sutton (home)
Madingley (home)
Chippenham (away)
8-38
8-48
7-48
5-9
6-35
10-58
9-55
5-32
8-38
But what's a batting collapse, when you've lived through a pandemic? What's a cheap dismissal or a dropped catch, when you're emerging into a post-Covid world, grateful for the escapism and the shared experience that this great sport offers? Everything and nothing, that's what – and, in the spirit of Captain Redders, the Camden boys have met it all in good cheer. Roll on, 2022.
—
Will Sutton (August 28, 2021)