Ashwell 236-2 (35 overs) beat Camden Casuals 224-6 (35 overs) by 12 runs 
Away from the white-hot heat of the cauldron that is Ashwell cricket club, another sporting event took place on Saturday. Emma Raducanu – already dubbed as 'Our Emma' as long ago as July at Austin Towers, made all sorts of history when she scooped up a lawn tennis prize in one of the former colonies. The most telling comment from the array of pundits was that Emma, with age, will only improve. This is something that we've long known at Camden. During the tea interval it was this very subject that – coincidentally and for purposes of this match report – was the hot topic of conversation.
Gerald, now approaching his seventieth year, had opened up the chat.
"It's lucky I'm here today. It's only because the England-India match was called off that I've got a free day. I was due to be playing my 250th match for England and searching for wicket number 1,250. I didn't even play Minor Counties until I was 30, then Surrey at 40 before England came calling at 48. Improve with age? I should say so!"
The Baker quickly chipped in.
"It was easy for you Gerald. I still wanted to continue my role as Wildlife Supremo and couldn't put as much time into cricket as you have, but with a big of juggling, I managed to blend the two. Remember that Brisbane Test when I chartered a plane between innings, flew up to Cairns and saved three miles of the Barrier Reef and still got back in time for a quick fifty before stumps?"

"Yes, and when you identified a wild flower on the outfield at Sabina Park, described it, named it and took a cutting and sent it Kew Gardens – remember?" asked Gerald.

"Ah yes, the Sinister Lobber if I remember correctly."
The President shifted uneasily.
"It's all right for you oldies. I'm still making my way on the County circuit. Seven hundreds this season and not a sniff of a call up…"

"Give it time, young David. Give it time young man."
Thoughts turned to the younger players in the club.
"Young Redders – late thirties. Settled down a bit, nice family life, crusting over at work and beautiful borders. He should be reaching his peak," ventured Gerald.

"A new peak, I think you mean," corrected the Baker. "Give him another twelve years and he'll be not nailing down that all-important James Vince slot in the England team."

"Ah yes. True. In any account, that first hundred must be round the corner. And what of young Liam?"
There was a sharp intake of breath and a chorus of tutting. Too young…only a teenager…needs at least another 20 years before he can even think of calling himself a spinner…
"No, he won't be taking any wickets any time soon. Mark my words…"
---
Perhaps it was the change of day that had tilted the Camden lads off their axis but when it was decided to play to our strengths and bowl first, very little success came our way. Ritesh, with his second ball, had their opener caught at square leg by Ginto but after that, there was an awful lot of fielding and retrieving to be done in the allocated 35 overs. Alfred Wainwright never wrote about walks in East Anglia but after a couple of hours of searching out the results of some of the more violent attacks on the bowling, the Camden fielders could have supplied him notes for at least two chapters.
Ashwell had decided to retire their batsmen not out at fifty. At least it gave us someone new to bowl at. The Baker, in an over of inspired genius, managed to send back not one but two batsmen to the pav, their work done. It was a long, hot afternoon in the field. No lack of effort from anyone but the wickets wouldn't come. 236 runs did, however.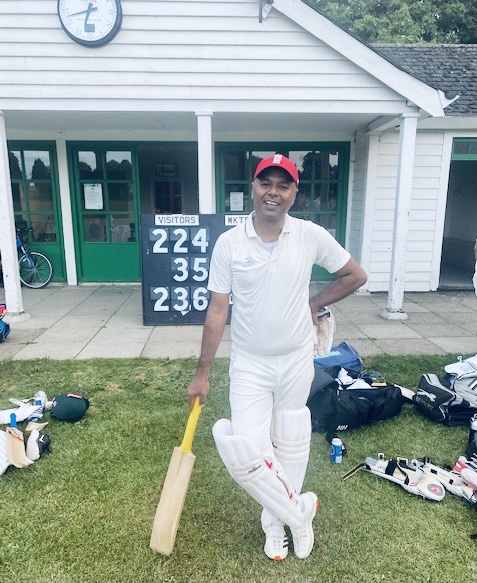 A welcome break and time to celebrate Fahim's birthday with a rich chocolate cake before he strapped on his pads and took to the middle with the President. What a start! Aided by a regular supply of wides, the score hurtled along. In fact, the wides flowed so easily that as a scorer, I didn't know if they should be retired at 50. 45 from the first five overs with both going well. A hiccup when the President tried to pull one that was too full but at the other end, Fahim was playing a different game. Trading mainly in fours and sixes, he cut, pulled, and drove to a delightful fifty. Partners came and went but when the Baker came in and adhesively put on 60, the win was still on. The difference between the attacks was that Ashwell's leggie was just too much of a threat to take on and starved of runs from one end meant that risks needed taking at the other. But where there was Fahim, there was hope. Negotiating the not-very-nervous nineties with ease, he played a rare ugly stroke to reach his hundred. Super stuff. It was in a losing cause, but what a pleasure to witness it.
When Fahim first came to the club four years ago as a young stripling of 37, it took him time to get used to the pace of the wicket and runs were hard to find. It didn't help that a propensity to wander across his wicket only to miss the ball was compounded by Ramesh's delight in firing him out LBW. Over the years though, the runs have flowed, always with style and elegance.
At 41, his first Camden 100 and I believe, his first in this country. Some players really DO improve with age.
Scorecard: https://camden.play-cricket.com/website/results/4965954
—
Nick Austin (September 13, 2021)