Redders' first ton has to share the limelight
Chippenham 104-8 (42 overs) drew with Camden 253-2 (41 overs)
There's still a game to go – the Gibson Stripper Cup, no less – but there was a sense at picturesque Chippenham that the season had come full circle. Back in April, at a chilly Eversden, the season's curtain-raiser had been against the same opponents, and as the return fixture crawled to a halt in fading light, it certainly felt like the end. But it's not about the destination, and this game was one hell of a journey.
Fresh from an unbeaten 118 the previous day, Fahim had his journey somewhat delayed by heavy traffic, which gave an opportunity to Redders at the top of the order. There aren't many better places to bat than Chippenham on a sunny day, and Redders – perhaps against type, readers might be forgiven for thinking – wasn't going to throw away such an opportunity. One opportunity was spurned, however, when Redders reluctantly took a single. Sutton had already forced the First XI skipper to run a three, bringing an end to six overs without changing ends, but Redders – having reached 40 with ten boundaries – had been eyeing up a run-free fifty. As it was, 48 of Redders' 50 came from boundaries – and he wasn't finished. The opening bowler changed to around the wicket, and the very next ball was spanked satisfyingly into the repositioned sight screen. Lob and non- spinning spin replaced seam and swing, but the runs continued to flow. It was all too much for Redders' bat, but soon enough, he was in sight of a century. 98 not out, to be precise. No nervous nineties for our man, unless calling for a rare two was a sign of nerves. It certainly surprised Sutton, and the bearded greengrocer, much to the amusement of his teammates, was happy to settle for a single. The Chippenham lads, despite this being the fourth meeting this season, were surprised to learn that Redders had yet to score a Camden hundred. It's been a long time coming – one more ball wouldn't hurt. It's unknown how many balls Redders faced, but he struck 19 fours and a six – and the hundred came up in the twentieth over. Crucially, no straight ones – or any other ones, to be fair – were missed, and no chances were offered. It was a truly stunning innings.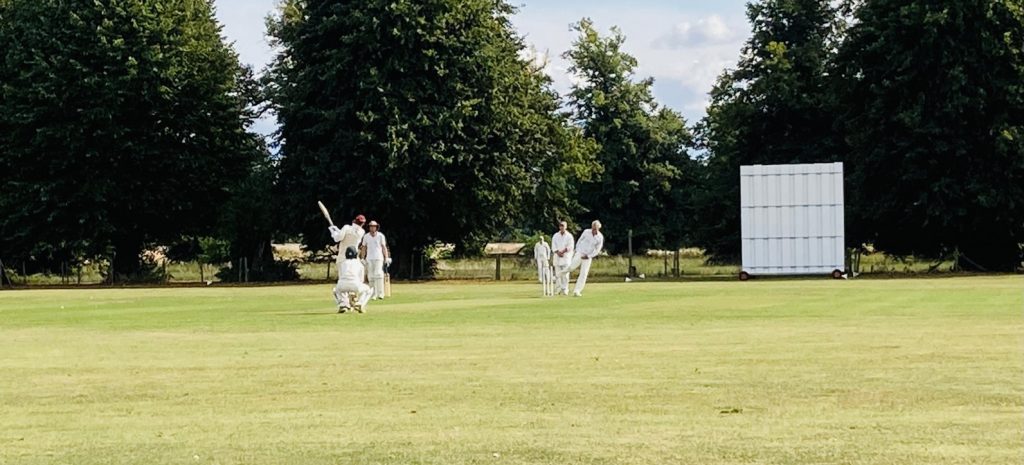 Sutton (52) brought up a low-key fifty – a fourth in six matches – in the next over, and the opening pair retired out with Redders on 112 and the scoreboard reading 168 from 23 overs. It's an unwritten rule of this cruel sport that the next man in after a big partnership must invariably fail, and the fall guy this time was Sourav Bhattacharya – caught second ball for a duck. Fahim joined Nick Green, and the run-fest resumed. Fahim added 34 not out, his birthday weekend yielding a staggering 152 unbeaten runs, while Green (46*, including a sweetly-timed six) was denied a maiden Camden half-century by Captain Baker's declaration. 252-3 in 41 overs.
Time for tea. Since the days of our charlatan Prime Minister claiming that a cricket ball was a "natural vector of disease", the impact of Covid on recreational cricket has largely been ignored. Friendly fixtures are often maintained on the strength of the teas, and Chippenham – before the days of BYO – is no different. Thankfully, the usual fare wasn't missed as Vish's many talents include rustling up enough biriyani for his teammates and Camden's travelling supporters. Very fine it was, too.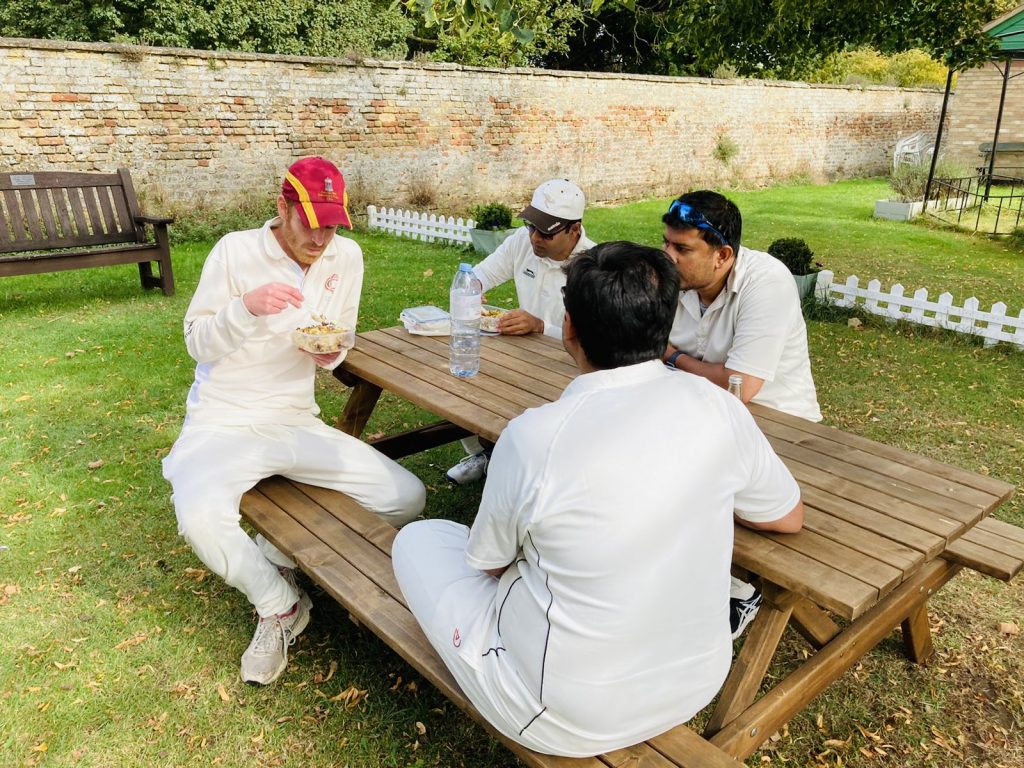 Your correspondent can only imagine how difficult it must be to open the bowling. Add in a bucketful of biriyani, and the efforts of Tarun and Ritesh seem even more impressive. The Chippenham reply lacked the fireworks of the visitors' innings, something underlined when the fifty came up in the thirteenth over. Camden had reached three figures at the same stage. By this point, the home side were one down thanks to Ritesh's fine piece of bowling, but could just about claim to be in with a shout while Harry Grant was at the crease. Enter Liam Wallman. The pitch had played true all day, but Liam – in his third over – managed to get one to scuttle along the floor to see off Grant. The one-man youth policy wasn't done yet. Next ball, a mistimed drive to mid-off and a catch for the plunging Baker. The batsmen had crossed, so the hat-trick ball was to the youthful number three. Hitherto, the youngster had been studious in defence, but something about Liam's well-flighted delivery prompted an injudicious swipe across the line. Bowled 'im. A hat-trick. And soon enough, four in five – Fahim with the catch at slip. It was to be the first of three such catches, two more following off the bowling of Baker (5-3-8-2), rounding off quite the weekend for the birthday boy. Spare a thought for poor old Redders. A first century for Camden, only to be upstaged by Liam's bowling, Fahim's catching and Vish's catering.
From 69-1 to 84-7, it was quite the collapse. The bell tower had recently rung for half past five, signalling the twenty over countdown, and Camden still had sixteen overs to take the three wickets needed for victory. Ritesh (10-3-20-2) picked up an LBW with his wrist-spin, but that was it for wickets/excitement. Try as they might, Vish (5-3-4-0), Tarun (8-1-28-0) and Redders (3-1-2-0) couldn't make the breakthrough. Liam (11-6-21-4) was summoned for the last over, but there was to be no more magic and Chippenham hung on for the draw. The last twenty overs had yielded just 24 runs, and the home side's number six took 24 overs in compiling 5 not out. That's four more overs than Redders took to rack up a century. Quite the contrast. Chippenham may have scored fewer runs and taken fewer wickets, they may not have won a boundary count-back and were thrashed 17-1 in maidens. But if you can't win, make sure you don't lose.
Scorecard: https://camden.play-cricket.com/website/results/4597532
Men of the Match: Andrew Redfern, Vish Chandrasekaran and Liam Wallman
—
Will Sutton (September 12, 2021)