CATCHES WIN MATCHES (SOMETIMES)
Adler's heroics in vain
Camden (9pts) 205-5 lost to Cottenham (20pts) 206-8 by 2 wickets
To your correspondent's relief, Captain Redders won the toss and elected to bat first at home to Cottenham. If Camden's four-game losing streak was to continue, at least it wouldn't be a replica of the previous two matches. Sutton and Adler, against the ethos of their skipper, had enjoyed a midweek training session, but it was soon clear that the table-topping visitors had opening bowlers of a higher standard than anything faced in the nets at Coton rec. Both survived LBW appeals, and Sutton should have been caught and bowled, but with judicious whacking (Adler) and running (Sutton), 48 were added from the first eleven overs. At which point, the opening bowlers were removed from the attack, and life got a little easier for Camden's men of leisure. Adler brought up a run-a-ball fifty, and the home side – 96-0 at the drinks break, plenty of batting to come – looked set for a big score. As did Adler, rapidly approaching three figures. Sutton, by contrast, was lacking in any real fluency, and was caught behind for 32 in the twenty-ninth over. Still, 142 is the eighth highest partnership for the Thirds and the fourth highest for the first wicket, and the pair now average 98.33 for the first wicket this season. Two overs later, Adler was bowled by one that skidded through, three short of a deserved century. The Big Aussie Unit faced 91 balls, hitting fifteen fours and two sixes, and can be mighty proud of his contribution. Whether it was the loss of the free-scoring Adler or the return of the opening bowlers, Camden only managed eleven runs from the next four overs. The shackles were broken by a sweetly-timed square drive from Redders, and the skipper's brisk 24, along with some much-needed runs for Harrison (18*) and yet more red ink for Batley (7*), took Camden to a respectable 205-5 at the cake break.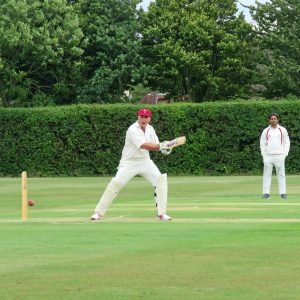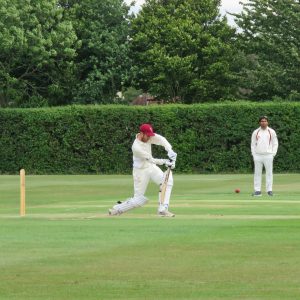 If the total was perhaps twenty light of what might have been, at least Camden could call upon the wily spin of Karan 'Deadly' Derekar. That was to come, however, as Batley and Tarun took the new ball. Cottenham's opener took a liking to the Batman's third over, but – having hit a four and a six – picked out the safe hands of Harrison at extra cover. When Adler took a catch off the same bowler, the visitors were 40-2 after nine overs and hopes were high of a first home win of the season. Vish and Karan bowled tidily, but couldn't make the breakthrough as Cottenham made it to drinks with 85-2 on the board. Time for Baker, and it was the wildlife supremo who put an end to a 72 run stand for the third wicket – Harrison pouching another catch. Nutt grabbed one at slip to remove the visiting skipper in Karan's (1-38) last over, before 123-4 after twenty-seven overs became 160-5 in the thirty-third over – Tarun (1-38) cleaning up the dangerous number five. Ordinarily, Adler's two further catches – both off the bowling of the impressive Baker (3-43) – would be cause for celebration, but it seems that catches might not win matches, after all. Not when they usher Dean Vale, Cottenham's big-hitting Jamaican, to the crease.Vale had yet to score when he sliced one high into the air off Batley (2-47). Not as high as in the same fixture last year, but the same man was underneath it. Only Sutton will know if he had time to call for the catch before the bowler, and there's no saying he would have caught it – after all, the former fruiterer went on to grass two, albeit more difficult, chances – but that was the game, right there. That was the catch to win the match – a point underlined by Vale smashing 27 from just thirteen balls, taking his side to victory with four balls to spare. There are hundreds of moments that go into losing a match, so it seems cruel that – for the second week in a row – it will be Hugo's caught and bowled chance that will linger in the memory.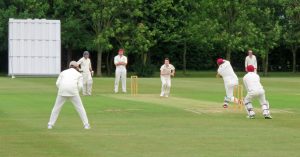 Joe Root, trying to explain his phenomenal form in the aftermath of England's latest epic Test win, spoke of "an acceptance that it's a game of failure." Even the most delusional of Camden followers will have come to this conclusion some time ago, and can only wonder if there isn't something more to England's renaissance.
Man of the Match: Jon Adler