ALMOST POINTLESS
Thirds have no answer to will of Gods and skill of villagers
Camden (1pt) 52 lost to Bottisham & Lode (20pts) 54-0 by ten wickets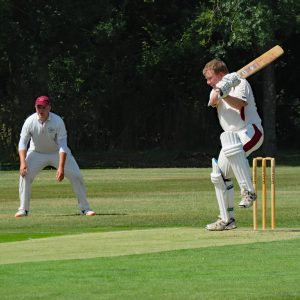 For a day that in hindsight seems so utterly cursed, there were an awful lot of blessings to begin with. The weather was perfect, Queens' looked a picture and the visitors, Bottisham & Lode, had been soundly beaten back in May. Captain Redders even won the toss. The stage was set.
And for eleven balls – during which Sutton picked up a couple of singles and Adler back cut a four – all was going to script. Adler then hit the twelfth ball into the juggling hands of the point fielder, before the thirteenth ball – a peach of a leg-cutter – cleaned up Sutton. "I have no idea how I did that," admitted the bowler. In the next over, Redders – bowled first ball, missing a straight one – was contemplating much the same, adding a why into the equation. 13-3, and elderly club photographer Sutton Sr had yet to complete a lap of the ground. A suboptimal start, then, but not beyond salvation when Camden – with the returning Kelsall at ten – could boast of batting depth. And not when Batley and Harrison were seeing off the opening bowlers. It was to be a case of careful what you wish for, however – the change bowlers starting with wicket maidens and finishing with combined figures of 15-7-14-6. What would have felt inconceivable an hour ago suddenly felt inevitable, as the home side slumped from 27-3 to 35-8. Record books were consulted. Harrison's 14 wouldn't beat the lowest high score in a completed innings – H.E. Batley's 11 against Cambourne in 2015 –  but one record was in danger of being rewritten: the lowest ever total in Thirds history – 47 all out versus St Giles in 2012. Kelsall wasn't playing back then, though, and it was four from the bustling education executive's bat that ensured the record would stand. Perhaps fittingly – Extras (11) second top scored again – four byes ticked the score beyond 40 and the promised land of a bonus point. It can't be pointless when you've got a point, but defending 52 in the field is about as pointless as it gets. Karan beat the bat a couple of times, but mainly the visiting openers beat the ball to all parts – cruising to victory in the seventh over. All over by cake o'clock.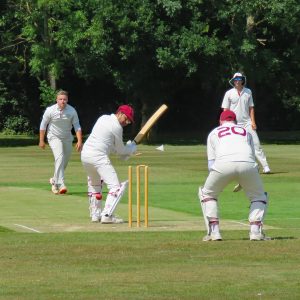 In the week that Tory MPs finally ran out of politically expedient excuses for Boris Johnson, Camden's own floppy-haired leader wasn't going to let his side accept any responsibility for this latest catastrophe. Not when it could be explained away as "one of those days when, for whatever reason, the Gods turn against you." With no fixture next week, things can only get better.
Man of the Match: No Award