WHAT A DIFFERENCE A FORTNIGHT MAKES
Bogey side beaten as Camden remember how to bat
Camden (20pts) 173-5 beat Coton (6pts) 172-4 by five wickets
Is there a good time to play Coton? If there is, then Camden were yet to find it, and the signs weren't particularly promising ahead of the latest clash at a scorched (but not scorching, thankfully) Queens'. After all, the hosts had lost six on the bounce and were propping up the Junior 1 North table. Moreover, Lee Borcoski was playing. If Coton are Camden's bogey team, then the popular Kiwi all-rounder is their bogey man.
With no fixture last week, Camden's misfiring batting unit had already had a fortnight to stew on the humiliation of being routed for 52 last time out. Another three hours in the field wouldn't hurt. Captain Redfern, always alive to the possibility of avoiding responsibility, didn't appear overly concerned at losing the toss, and was rewarded when Batley (2-29) removed both openers to reduce the visitors to 37-2 after ten overs. Enter Borcoski, joining daughter number one at the crease. Enter Vish. After last year's sensational caught and bowled, this was the match-up that a bumper crowd had come to see. The off-side field was packed, leaving tempting gaps on the leg side. Vish charged in. The ball was full and straight, sneaking under the ill-judged sweep shot, crashing into the pad. The trap had worked, but the youthful umpire wasn't about to give his volatile captain out. Camden weren't too worried while Vish, Adil and Karan kept a lid on the run rate.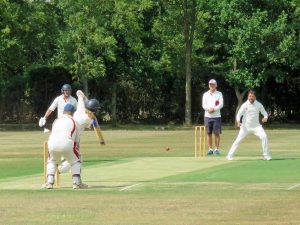 Tucking into Baker, the father and daughter partnership had added 84 by the thirtieth over, at which point Borkoski Jr retired fatigued with 35 to her name. The lack of wickets – and indeed excitement – had been a worry for Redders, however, and the skipper had been talked out of taking off Karan. Five overs later, the logic in persevering with 'Deadly' Derekar (1-26) bore fruit with the key wicket of the popular Kiwi for 58 – a relative failure for him against Camden. Kelsall (1-37) returned to give Hodsdon a second catch, and Coton wound up on 172-4 at the cake break.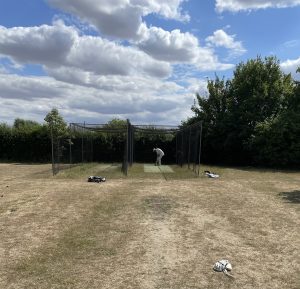 With Adler on holiday, Redders opened up with Sutton. The skipper has long maintained that training is cheating, so it came as a shock to receive a leaked photograph last week that appeared to show him having a net. In this post-truth age, the authenticity of the snap remains unproven, but this innings felt like an act of self-incrimination. "Correlation isn't causation," he'd say afterwards, "and what about the reversion to using my old bat?" But none of that explains why he didn't miss a straight one, how Sutton was able to persuade him to run eleven twos, or why he waited until he was on 49 to offer a simple catch to mid-on. The chance went down, which would have pleased Kelsall – the brawny seamer having informed the opening pair that he expected the score to be 80-0 when he woke from his snooze. If the snooze was uncharacteristic, then the optimism was entirely in keeping with the bustling education executive's outlook. 52 all out was history.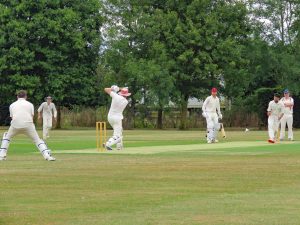 That horror show lasted the worst part of twenty-five overs. What a difference a fortnight makes. At the same stage here, Camden – with Redders strumming a series of well-timed drives – had surged to 130-0. Borcoski – dabbed to distraction by Sutton – was holding back two overs, and it looked like Camden could follow a ten wicket loss with a ten wicket win. Adler and Sutton's 142 stand looked under threat, too, until Redders (67) chipped one to mid-on to spark a mini collapse. Sutton (55) was caught at midwicket, the ball after being dropped by the same fielder and being reminded by Kelsall – umpiring at square leg – that he had vowed not to play the pull shot. If that was brainless, then what followed is hard to explain. Batley played one out to the cover sweeper and jogged a single. Quite why was anyone's guess, but Robinson turned for the other end. It looked like the ex-former-ex-all-rounder had something of vital importance to tell Hugo, or was hurrying to retrieve some dropped piece of equipment. He couldn't possibly be running a second. In mitigation, the Syndicate man had endured a stressful few weeks in the exam game, but his brain fade meant that Camden had suddenly lost three wickets for thirteen runs. Nine overs remained. Twenty-three runs to get. Even the Thirds couldn't throw this one away, surely? Krishna was adjudged LBW by Kelsall – once he'd remembered the rules – and Batley (15) was castled by the returning Borcoski, but it was too little too late for the visitors. From the last ball of the thirty-eighth over, with the scores level, Hodders called Adil through for a single. The throw came in. The bowler – Bocorski, who else? – whipped off the bails. Had Adil – hitherto winless for Camden – scored the winning run? Had a first home win of the season been secured? Was it a maiden win for the new caps? Had Camden really beaten Coton? So many questions, but there was only one answer: yes! Now umpiring, Robinson had regained his judgement. Not out. The ever-competitive Kiwi hurled the ball into the ground in frustration. It is unclear whether it was the same ball that he had been so keen to locate last year.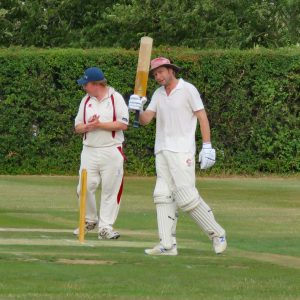 Men of the Match: Andrew Redfern and Will Sutton