SAME OLD CAMDEN FLOGGED BY NEWMARKET 
Baker takes three, but teammates fail to come to the party
Camden (7pts) 181-6 lost to Newmarket II (20pts) 259-7 by 78 runs
The Thirds' stop-start 2022 campaign resumed at a sunburnt Queens' with a relegation scrap against Newmarket II. The visitors – five points behind Camden, having played a game more – won the toss and had no hesitation in opting to bat first. Tarun found the edge twice – one shelled at slip by Robinson, one taken by Hodsdon – but the boundary was also being found with alarming regularity. In nine matches this season, Camden had taken all ten wickets on just three occasions. And one of those – the only one at home – was in the process of conceding 300. Despite Bulusu (1-42) bagging an LBW, a similar total looked on the cards here, with the visitors racking up 144-2 by the halfway mark.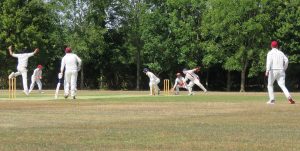 That Newmarket only reached 259-7 was somewhat of a triumph for the beleaguered Captain Redfern. Moreover, it was a triumph for Baker. Replacing debutant Abishek – who had bowled tidily but without luck – at the Barton Road end, the wildlife supremo's first two deliveries were despatched to the boundary. An inauspicious start, then, but the birthday boy had a quiet word with himself and returned with consecutive wicket maidens. The dismissals were classic Baker: one bowled, one caught behind – both lured down the track to ignominious ends. Another followed, caught by Redders at extra cover, earning the ageless left-armer the more than respectable figures of 8-2-41-3. Pace off seemed the way to go, and yet Sutton – top of the bowling averages – wasn't called upon to send down his occasional filthy offies. Perhaps more inexplicably, Batley was held back until the thirty-seventh over, in which he duly took a wicket. Tarun (2-38) returned to claim another, but Camden would need a miracle to chase down the 260 runs needed for victory.
Stranger things have happened. Indeed, stranger things had happened that very afternoon, if reports of David Mitchell taking a five-fer for the Twos were to be believed. Here, the reply started in more credible fashion – Sutton failing to score off the first over, Redders taking ten off the second. But any hopes of a repeat of the pair's heroics against Coton were dashed when the skipper nicked off for 14. Sutton and Batley added 57 for the second wicket, but 77-1 quickly became 84-5. Sutton (23) was bowled by one that kept low, debutant Prathyush (2) was unlucky to play on from a classical forward defensive shot, Batley (28) got a leading edge to midwicket, and Bulusu was stumped for a duck. Robinson and Hodsdon (19) steadied the ship, but with the result a formality, the game looked set to meander to a tame finish. That was to reckon without Robbo, however. Venturing out of his bunker, the ex-former-ex-all-rounder hit one back over the bowler's head one bounce into the sight screen. "Where did that come from?" asked a visiting fielder. "1995," came the reply, but "the future" would have been equally accurate, as it turned out.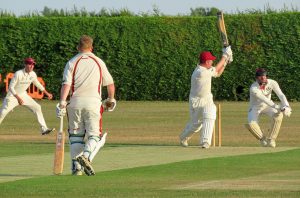 Before Robbo's wild finish, however, an unsavoury incident to report. Vish (19*) survived a stumping shout, but it became clear that the visitors were also appealing for a caught behind. Is it cheating to not walk when you don't feel or hear a nick and when the umpire gives you not out? You wouldn't have thought so, and Vish understandably took umbrage at the accusations – particularly when they were made as the bowler was in his run up.
Anyway, back to more wholesome content. Going into the final over, Camden were one run short of 160 and a fourth batting bonus point. Just to make sure, Robinson (45*) smashed twenty-two from the final five balls. It was a surreal end to what had in truth been a tediously one-sided encounter.
Man of the Match: Martin Baker