NOT MUCH FUN IN THE SUN
Relegation looms after latest limp loss
Camden (5pts) 177 lost to Sutton (20pts) 179-3 by seven wickets
The result isn't necessarily determined by the toss – after all, Camden can lose whether batting first or second – but all eyes were on Captain Redfern's Mexican ten peso coin at Queens'. Nobody wanted to field first. Not while it was hotter than the sun. The coin came to rest, and the skipper's reaction didn't give much cause for cheer. But head in hands wasn't due to disappointment. It was disbelief. The visitors, Sutton, had chosen to put Camden into bat! There is, it seems, no corner of the fens that the attacking philosophy of Bazball hasn't infected.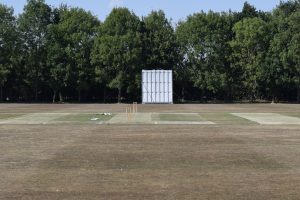 8-0 off the first five overs was quite the refutation of that theory, but openers Sutton and Adler could tell themselves that it would get easier – if not cooler. Indeed, the shackles were released enough for the prolific partnership to register another fifty-plus score. Sadly the plus bit was only eight on this occasion, Adler (22) nicking off in the seventeenth over. Redders announced himself at the crease with a sumptuous on-driven four, and rightly took it upon himself to hog the strike – even running a couple of twos. It must be noted that the word running is doing a lot of heavy lifting here, and the skipper was fortunate to gain from a buzzer when a direct hit would have been punishment for some characteristic dawdling. A younger and fitter Sutton – a pre-parody Sutton, who didn't score twenty-five off sixty balls every week – might have benefited from recuperating at the bowler's end for three overs, and might have kicked on. Instead, the former fruiterer yorked himself for 28 (61).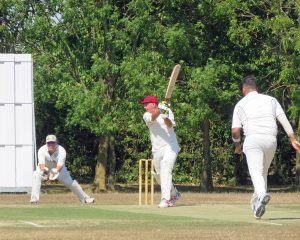 Still, 79-2 at the halfway mark wasn't too bad. A decent score could still be had, and Redders and Battley might have been just the men for the job. Might, that is, because five overs later the score was 92-4 and both were out to youthful leg-spin. First, Redders (20) was caught and bowled, then Batters (4) slapped one to cover. That brought Robinson and Vish together again after the previous week's defiant red inkers. Camden have a lot to thank Newmarket for, as the pair looked to have played themselves into form. Robbo hit his second ball for four and kept the use of the piranha shot to a bare minimum, while Vish batted terrifically but was cruelly denied a maiden Camden half-century. The pair put on 66 valuable runs, taking the score to 158-5 when Robinson was out for 29 in the thirty-seventh over. It was quite the achievement, then, for the Thirds to be all out by the end of the forty overs. To be fair, the visitors – and their returning opening bowler Nuttall, in particular – were complicit in this latest Camden collapse. The burly pacer struck four times, removing Adil (2), debutant Raj (1), Baker (1) and Clarke without score. Amongst the carnage, Vish (44) was senselessly run out. All of which amounted to the grand sum of 177 runs and twenty-two men in various states of hot and botheredness. It's never too hot for cake, however, and Vice President (Cake) can always be bothered to bake. This being the last home fixture of the season, it's time to thank her for such sterling efforts – as is the case for groundsman Mark Reader.
When Vish took a caught and bowled chance in his second over, it looked like the gratitude might take the shape of a second home win. The visitors had other ideas, however, tucking into Battley and Adil, and racing to 57-1 from the first ten overs. It was Baker or bust. The wildlife supremo started with two gentle full bungers being hit for four, but Camden's leading wicket taker this season has seen it all before. As recently as last week, as it goes, but there was to be no repeat. 106-1 after twenty overs, and the Thirds were staring in the sweaty face of yet another beating.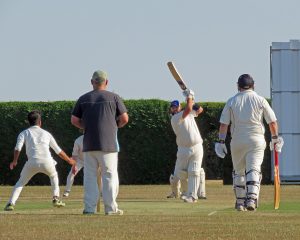 Debutant Rizwan impressed with a rare ability to conceive and execute a plan of bowling to his field, and was rewarded with a wicket in his eighth over – finishing with figures of 1-25. The wicket was caught by Adler at long-on, but – having dropped the same batsman earlier – it wasn't much consolation to the Big Aussie Unit. Raj (1-39) also claimed a maiden Thirds wicket, and Vish (8-2-17-1) bowled exceptionally without further reward, but any jeopardy had long since evaporated in the heat. To everyone's relief, Sutton reached the target before Redders could introduce their namesake into the attack.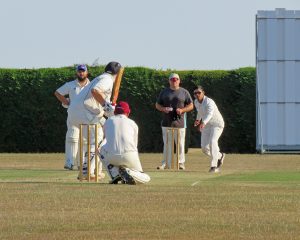 Man of the Match: Vish Chandrasekaran