THIRDS NOT AT THE RACES
Costly drops and cheap wickets
Newmarket II (20pts) 244-8 beat Camden (6pts) 97 by 147 runs
Assuming only one side will be relegated from Junior 1 North this year, there wasn't much riding on Camden's trip to Newmarket. With Captain Redfern still away, deputy Adler led a side devoid of its leading run scorer and leading wicket taker – Sutton nursing tendonitis in his achilles, and Vish nursing a newborn child. Vish's revenge would have to wait – although it should be noted that Newmarket's popular skipper wasn't playing, either.
Fielding first after losing the toss, the Thirds didn't have to wait long for a wicket – Batley striking with his first ball. Hodsdon took the catch with an ease that was to be at odds with subsequent Camden efforts. It may come as a surprise to learn that Kelsall wasn't among the culprits, but before all those countless drops, the bustling education executive picked up a wicket with a terrific in- swinger. 35-2 was as good as it got, however. Adler wasn't short of bowling options, but none of Rizwan, Ritish, Krishna and Baker could stem the flow of runs. And nobody could catch. Fortunately, there are other ways of being dismissed. Hodders pulled off a stumping off Krishna (1-40), before Batley ran out both McDowell brothers with direct hits. The fun didn't stop there – Adil executing another run out – but neither did the runs. Indeed, the last four overs – despite Kelsall (2-34) and Batley (2-30) returning to claim a wicket apiece – yielded 44 runs. At the other end, Adil's hitherto miserly figures of 4-0-12-0 were spoiled when his final two overs went for thirty-two. It was that kind of a day for the Camden lads, who could at least take solace in cake. But they had failed yet again to bowl out the opposition. 244-8, this time.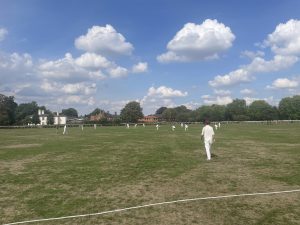 Losing both openers – Adler and Hodders – in the third over of the reply was suboptimal. But Camden – through Batley and Sourav Bhattacharya – recovered enough to be four runs ahead of where Newmarket had been at the ten over mark. The pair's partnership of 45 would be the largest by some margin, however, as the wicket of Batley (30) sparked a characteristic collapse that saw the last eight wickets fall for just 41 runs. Sourav (27) and Rizwan (11) were the only other batsmen to make double figures in Camden's 97 all out, while the home side's off-spinner finished up with the scarcely believable figures of 7.2-5-3-5. A largely forgettable innings was enlivened by the search for Batley's car keys and a brief rain break. Yes, rain. There may even have been more drops than Camden had managed in the field.
Man of the Match: Hugo Batley