CASUALS STRIKE THE WRIGHT NOTE
Redders pays tribute to Chippenham legend
Camden Casuals 238-4 dec. beat Chippenham 152 by 86 runs
The traditional end of season friendly at picturesque Chippenham took on an added poignancy this year. The death of a much-loved institutional figure will have that effect. No question over whether the match should proceed, though. After all, it's what Alan Wright – Mr Chippenham CC for as long as anyone can remember – would have wanted.
All of which takes us to the final ball of the twenty-seventh over of the Casuals' innings. Even by Redders' standards – and taking into account a bruised toe and the two threes the Thirds' skipper had run earlier in his innings – it seemed odd to be turning down a second run. If he was stealing the strike, it soon became clear that it wasn't for himself. With that single, Redders had reached 74 – the age of Alan when he passed away. A classy innings was to finish with a classy touch, Redders retiring in tribute to the great man.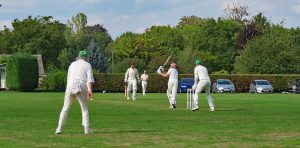 Earlier, the Casuals enjoyed an eventful start on a damp pitch. Duncan Gibson (15) thumped three fours in the first two overs, before the visiting Kiwi and number three Paul Crossley both fell in the third over. Sourav Bhattacharya and Redders then put the innings back on track, bringing up the hundred in the fifteenth over. Sourav (46) looked set for a well-earned half-century, so it was a surprise when he popped up a return catch. Sutton and Redders added 59 before Redders' retirement brought the welcome sight of Justin Lee striding to the middle. It was a first outing in Camden colours since last season's horrific achilles injury, and the returning impresario was soon up and running. Too much running, it could have been said – had Lee and Sutton been able to breathe. Still, the pair survived to put on 70 in nine overs. The wicket of Lee for a cheering 27 was the signal for Captain Baker to declare, his side having amassed 238-4 and Sutton having plundered 57.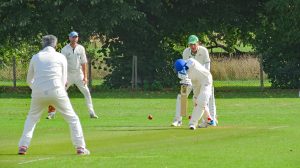 After the novelty of a proper cricket tea, Baker threw the new ball to Tarun – the Casuals' one-man seam attack. The first over almost accounted for the opening batsman's teeth and Sutton's thumb, but Tarun (2-30) didn't have to wait long for the breakthrough – striking twice in his third over. Both were bowled, and the first was an absolute beauty, swinging in to peg back the middle stump. Thereafter, it was over to the Casuals' senior spin twins – Liam Wallman having sweated off his post-A-Level results hangover with an eight over spell. Despite stands of 48 for the third and fourth wicket, Chippenham had no answer to the flight and guile of Baker (4-43) and Gerald Coteman (3-19). Backed up by excellent catches from Tarun and Sourav, the veteran twirlers reduced the hosts to 152-9. Wallman (1-44) was summoned to wrap things up, and the Brighton-bound student duly obliged first ball – Chris Clarke taking a terrific catch.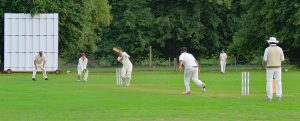 Not everyone has the foresight to invent a cup to honour themselves, so the Casuals couldn't add to the previous day's silverware. But two victories in a weekend is not to be sniffed at, and this match – played in a spirit exemplified by Redders' noble gesture – was a fine way to remember the man who had done more than anyone to preserve this wonderful fixture. Long may it continue.
Man of the Match: Andrew Redfern