PARADISE. LOST.
One in the eye for Camden's hopes
City of Ely II (20pts) 229-9 beat Camden (7pts) 128-8 by 101 runs
On a glorious day, Camden travelled to the euphemistically named Paradise Centre, hoping to kick-start their season against bottom of the league Ely. It felt like a bat first kind of a day, but Captain Redfern wasn't too upset to lose the toss. The skipper could for the first time this season call upon Kelsall, who opened the bowling with the returning Tarun (1-26). For the latter, it was to be an eventful start – two boundaries followed by a wicket, LBW. It wasn't for a lack of effort, but the Thirds would have to wait until the twenty-eighth over for another wicket – Harrison claiming a stumping off Karan to end a stand of 132. By this stage, Vish had parked his car and been to the loo, Ritish (0-33) had bowled tidily without reward, and Kelsall (0-29) had been forced off after taking a frightful blow to the eye while diving on the capricious outfield. It wasn't enough to silence the bustling education executive, and his team appeared to be listening. 144-1 became 168-7 by the thirty-fourth over. Robinson moved athletically to pouch a catch off Vish (1-44), before Karan (3-55) and Krishna (3-37) each added two more. It was reward for never letting Ely get away, even when wickets were hard to come by. Suddenly, Kelsall's exhortations to "keep them under 200" didn't sound like blind optimism. But Ely's number nine had other ideas, smashing 44 from twenty-four balls. It felt cruel after the Camden lads had bowled and fielded so admirably.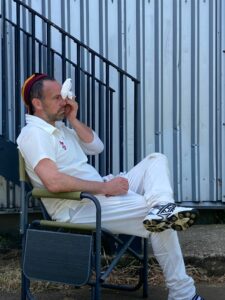 In the event, keeping them under 200 wouldn't have made much difference – the target of 230 soon becoming notional. If Captain Redders had harboured any ideas of leading by example, he surely hadn't envisaged chipping his second ball tamely to mid off. Robinson, debutant Hridoy Dutta (cap number 168) and Krishna didn't fare much better against some excellent bowling. Sutton (17) looked as though he'd seen off the left-arm quick, only to fall LBW to the last ball of his spell. The same mode of dismissal befell Harrison, the fourth visiting batsman given out leg before to think he may have been hard done by. With the scoreboard reading 40-6 after twenty overs, the Thirds had at least secured a bonus point. Two more followed, as Ritish (24), Vish (31) and Karan (25*) put the top order to shame – taking the final score to 128-8.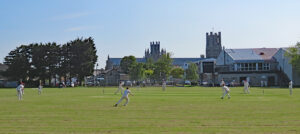 A bruising loss, then, and Kelsall wasn't the only one in the wars. Tarun aggravated a thigh strain, and it later emerged that Vish had fractured a finger. Captain Redfern, nursing a bruised knee, declined to comment, but was later heard muttering that it was "all Fox-Teece's fault."
Man of the Match: Karan Derekar