TRAIN STRIKES DERAIL CAMDEN 
Much-improved performance not enough for much-needed win
Camden (8pts) 172-8 lost to Sutton (20pts) 173-9 by one wicket
As the weeks slip by, it's a surprise to find opponents below winless Camden in Junior 1 North. If Sutton were to climb off the bottom of the table, they would do it bowling first. For the Thirds, having retreated to fortress Queens' after being routed on their fenland tour, Captain Redfern's brittle batting unit would have to improve on a best of 134 so far this season.
33-3 after twelve overs might not look like anyone's idea of improvement, but Redders (13) – until missing a straight one – batted responsibly, and Mitchell – bowled second ball for a duck – doubled his participation from Warboys. When Saurav also went without scoring, Krishna joined Will Sutton in the middle. Fifteen from the thirteenth over, and the pair were on their way to a season's best partnership of 80. Containing just a pair of fours apiece, the fifteen-over stand was a triumph of placement and running. It was a shame the two set batsmen couldn't kick on, but Krishna (33) and Will (52) had put the hosts in a decent position. Time for some mindless violence. Justin Lee (20), thumping three fours, was just the man for the job, aided by Hodsdon (8) and debutant Farid Pardess (5). It was heartening to see Justin return to the scene of that achilles tear, as it was to see that Kelsall – after the previous week's ordeal – appeared to have his eye in. Consecutive fours in the final over suggested as much, the bustling education executive's 12 not out and Karan's 7 not out taking the Camden lads to a respectable 172-8 at the cake break.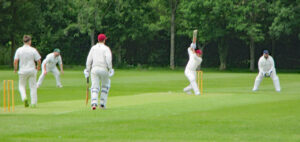 Kelsall and Farid took the new ball, the latter taking a wicket in his first over. Farid is the 169th player in the storied history of the Thirds, and the first to have arrived – via Scarborough – from Afghanistan. The dismissal, chopped on, made for a wholesome moment – a reminder of this great sport's capacity to bring people together. Thereafter, Sutton's pinch-hitting opener clubbed two sixes, before Kelsall cleaned him up. The ever-competitive seamer's next over was even better. Two wickets, both caught – the first by Hodders, the second by Krishna. Unperturbed by the Bulusu upgrade's attempt to collide with him, Rizwan (2-42) picked up a brace of wickets – caught by Justin and Kelsall – to the leave the visitors reeling at 70-6 from twenty overs. Sensing a rare Camden victory, the crowd swelled. With the spin twins operating in tandem and the field in the right place, Sutton's number six was running out of partners. When Redders – on a hunch, hanging back at mid-off – gleefully took a catch off Karan, it was almost enough for the skipper to share Kelsall's optimism. Following Krishna's earlier wicket, the visitors – with just two wickets remaining – now required 58 from eleven overs. Krishna (2-39) grabbed another wicket (and catch) to leave the last pair 42 to win from forty-eight balls. With Deadly Derekar (1-16) bowled out, Captain Redfern had a decision to make at the Barton Road end. Farid had three overs left, but that would leave a sixth bowler bowling the penultimate over. Certain it couldn't come to that, the skipper threw the ball to Farid (1-39). It would come to that. 11 to win. Redders to bowl – the skipper taking responsibility. It was to be an eventful over, including some contentious wides and a near run out, but six from it left Krishna the task of defending five from the final over. With the number six on strike. Dot ball. Two runs. Two more, but a direct hit and that was out. Scores level, that was the last chance. And so it came to pass. As Vish noted, "Anyone can lose. But to lose by one wicket takes years of practice."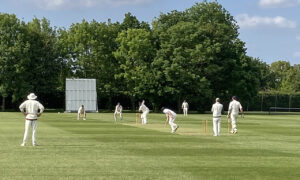 Over post-match beverages in the Red Bull's former car park, it later emerged that Sutton's number six – who had also opened the bowling – was only playing due to the train strikes. If that was unfortunate for Camden, there was nothing lucky about the match-winning knock of 80 not out. It really was a terrific innings. If the Thirds are to lose – and it appears they are – then this latest defeat is as good as it gets.
Man of the Match: Ryan Kelsall