THIRDS FOUND WANTING AT NEEDINGWORTH
Sutton's 'bowling' a new low as winless run goes on
Needingworth (20pts) 266-3 beat Camden (4pts) 154-6 by 112 runs
Having lost the toss at a parched Needingworth, Captain Redders had to rely on his innate skills of diplomacy and dawdling to stall the start until Camden could take the field with eleven. When play finally got underway, the idea persisted that this would be a long old day in the sun. As the ball regularly raced to the boundary, Sutton Sr was in typically pessimistic form. "Anything under 300 will be a bonus." But that was to underestimate the side he founded all those years ago. Founded on left-arm spin, it could be argued, so it was only right that Martin Baker should be the man to end an 83-run opening stand – Sutton Jr taking a catch at extra cover. The wildlife supremo, with Rizwan bowling tidily at the other end, was to strike again. Figures of 2-38 were to stand out.
Pace off was the way to go. Unable to call on the services of Karan and Krishna, Captain Redfern could only turn to the occasional off-spin of Sutton and his own increasingly slow swingers. One such delivery from the skipper saw Baker take a smart low catch. At this point, 161-3 in the thirty-second over, the visitors had done well to keep a lid on things. Needingworth's opener was 53 not out. He could clearly bat, but there had been little to hint at what was to follow. 53 to 127 in eight overs was quite the acceleration. Redders (1-27) shuffled his deck, but Vish – bowling an over despite his broken finger – and the returning new ball pair of Kelsall and debutant Abhik (cap number 170) were powerless in the face of the storm. It really was carnage, the home side plundering 71 from the final four overs to finish on 266-3. The Thirds sought shade and cake.
The reply was to begin with an eventful first over. The first ball rapped Sutton on the glove. The sixth ball thudded into Robinson's bicep. But it was to be the opening quick who couldn't carry on, thanks to a side strain. Sutton had taken nine from the over, but there was less pace to work with at the other end. The Thirds were soon in familiar trouble. 41-3 from ten overs, with Robinson (3), Hodsdon (2) and Redfern (7) back under the gazebo.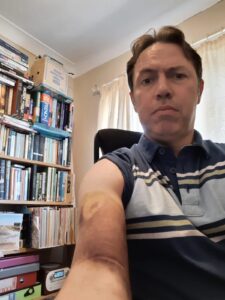 That brought Adil to the crease, already in considerable credit having saved countless runs in a truly outstanding display of boundary fielding. Having been spared bowling at the death, Adil's good day was to continue with bat in hand. Sadly, the fourth-wicket partnership reaching 50 coincided with Sutton (46) lobbing an innocuous delivery to mid on. It was a tame end to a classy innings, notable for containing eight boundaries. What could explain such expansiveness? Redders and Vish claimed credit for setting a target of ten, while Sutton could point to the lightning fast outfield – but perhaps the truth lies with Needingworth's century-maker alleging Sutton's likeness to Prince Harry. Vish, coming into the game as a batsman with the princely average of 50, helped take the score beyond 100, before Adil – having reached  a stylish 27 – was undone by one that kept low. Harrison fell for a duck in the same over, at which point the equation was 153 needed from the last ten overs, with four wickets in hand. The game was over – thoughts were turning to getting home in time for the Champions League final. Kelsall (16*) and Vish (38*) still had bonus points to play for, however. In the event, an unbeaten stand of 40 for the seventh wicket fell six short of a fourth batting point. But Vish, now averaging 88, has seemingly found Hugo Batley's supply of red ink.
A more pertinent statistic, perhaps, is that the Thirds are yet to win in 2023. Remarkably, they remain out of the bottom one of Junior 1 North – a place occupied by Newmarket, next week's visitors to fortress Queens'. Bring it on.
Man of the Match: Adil Khan