A WIN!
Nutt cracks 72 as Thirds break their duck
Camden (20pts) 181-4 beat Newmarket (6pts) 179-8 by six wickets
If the Ashes is the pinnacle of the game, a Junior 1 North basement battle at Queens' can't be very far from base camp. Formed in 1881, Camden CC predates the famous old urn – and it has been looking like the Thirds, over the years, have lost that something that might help them climb out of the relegation zone. At least Captain Redders, by losing the toss, could avoid the scrutiny that Ben Stokes' decision to declare had drawn the previous evening. And it soon looked like a good toss to lose, with Baker taking a smart low catch off Farid (1-14) in the second over. To say Redders then took a catch off Kelsall (1-22) doesn't tell the whole story. True, Kelsall was the bowler – but the skipper really took the catch off Prathyush, fielding at mid on. With both openers removed, it didn't matter. Newmarket were 29-2, and things were about to get worse for the bottom of the table side. For Redders, things were about to get a whole lot better. First, an unlikely LBW. Then, thanks to Vish's excellent nine-fingered catch, a 150th wicket for the Thirds. 2-35 was a welcome return to form for the skipper, who would later delight in the discovery of a new statistical category in which only he qualifies – 3000 runs and 150 wickets. Perhaps more importantly, an LBW for Nutt (1-38) meant that the visitors were floundering at 56-5 in the nineteenth over.
Any hopes of an early cake break were dashed, however, as Newmarket's number three found greater support from the lower order. A sixth wicket stand of 61 was ended by the ball of day, bowled by Krishna (1-31). Another 31 for the seventh wicket, before Baker (2-33) induced a lofted drive straight to Nutty at long on. A further 17 had been added when the number three was stumped by Hodsdon off Baker for a valuable 74. And the score had reached 179-8 by the end of the final over. To be fair, it had read the same at the end of the penultimate over. Much is made of momentum in this crazy sport. Had Farid's terrific maiden swung it back in Camden's favour?
20-0 from the first ten overs of the reply didn't suggest much momentum, but the openers had been seen off by Sutton – benefitting from being dropped – and Nutt. 11 from the eleventh over. Momentum. 69-0 from twenty overs. 122-0 from thirty. Watching Nutty bat, it's easy to forget that he's a star of the Cambridgeshire over-60s side. Until he's been batting for thirty overs, that is. Despite offering numerous chances to be run out, Nutt instead ran out of steam – skying one back to the bowler. "I hope I can bat that well when I'm in my sixties," said Sutton – a former pupil of the Netherhall man.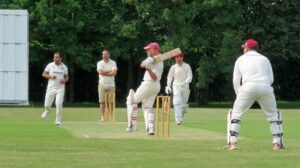 140 for the first wicket is the 5th best in Thirds history, and had left the home side in the commanding position of needing 40 in seven overs and one ball. Make that 35 – Redders slapping his first (no) ball for four. Momentum. But this is Camden, remember. The same Camden who lost six wickets for one run at Warboys. The catalyst for that collapse had been the wicket of Sutton. It couldn't be a repeat, could it? It looked like it could, when Sutton (59) chipped to mid-wicket. And when Robinson (0) lofted to mid on. 32 to get from five overs. 28 from four. 24 from three. Sutton couldn't bear to watch, instead offering to umpire – where he got a good view from square leg of Redders (11) gloving behind. Had the Thirds forgotten how to win? Where had that momentum gone? Vish joined Prathyush, taking a single from his first ball. Prathyush creamed the next ball for four, an on drive as good as any shot all match. Momentum. 17 from two overs.  Newmarket had failed to score off the last over of their innings. Camden, thanks to Vish and extras, wouldn't need a fortieth over. Five no balls wasn't the most satisfying way to win a match, but the Camden lads won't mind. At the seventh time of asking, the Thirds had won. And with 12 not out, Vish had taken his average to 100. Better than Bradman. And one more than President David Mitchell had scored for the victorious Seconds. Run out for 99. The smart money was on it being Ramesh – something the original Bulusu was only too happy to confirm at the White Horse. The President was his usual amiable self. After all, it's not every day that Camden win.
Man of the Match: Andy Nutt