NORMAL SERVICE RESUMED
Camden fizzle out after fireworks from Redders and Prathyush 
Camden (5pts) 161 lost to Bottisham & Lode (20pts) 162-3 by seven wickets
Never mind that Camden had, as recently as last week, won batting second. And never mind that batting first in this fixture last year resulted in the ignominy of being bundled out for 52 and losing by ten wickets. Past performance is no guarantee of future results. We'll have a bat. In fairness, Captain Redders, hamstrung by availability and injury, lacked the horses for this green Queens' course. And, for the first twenty-two overs, batting first didn't look like a bad call. Building on a first wicket partnership of 40 between Robinson (9) and Sutton (26), Redders and Prathyush were batting like gods.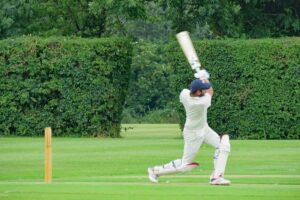 61 runs in forty-four balls, the score up to 113-2. Scrambling for an answer to the onslaught, the Bottisham & Lode skipper turned to a sixth bowler. It turned out to be an inspired change. Prathyush, having hit two towering sixes and four fours to compile his 28, was the first to go – caught and bowled off a leading edge. Krishna followed three balls later for a duck, and when – in the same bowler's third over – Redders (51 from 49 balls) reached to lob a catch to backward point, the home side's ambitions of posting north of 200 looked a little optimistic. At the fall of Prathyush's wicket, Sutton had pessimistically predicted 160 all. One man's pessimism is another's realism, and so it came to pass that Camden folded to 161 all out in the thirty-eighth over. Even Vish Bradmandrasekaran couldn't stop the rot, his 8 seeing his average plummet to 54. The last five partnerships were 4, 8, 4, 6, and 9. Only Adil (12) and Hodsdon (11*) troubled the scorers. Still, the cake was good and 161 is an improvement on 52 all out.
Not enough, though. Not nearly enough. With the score in the nineties and Camden melting in the sauna-like conditions, Captain Redders called on Sutton – who fielded well throughout – to see if he could do a bit of 'Kelsalling'. It wasn't just the bustling education executive's bowling that the Thirds were missing, it was his noisiness. A few stirring words later, and Wallman (1-28) had made the breakthrough – bowling the well-set opener with a beauty. Baker (2-34) was the pick of the bowlers, taking two wickets in an over – a stumping for Hodders and a catch for Redders. The wildlife supremo, with 227 wickets, is now just two behind mystery spinner Alec Armstrong's Thirds record. On another day, he might have beaten it here. But ball didn't go to hand, and when it did Robinson shelled a presentable chance. In the end, Bottisham & Lode coasted to victory in the thirty-second over.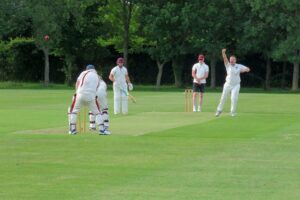 Past performance is no guarantee of future results, but for the Thirds – having now lost seven of eight this year – it remains a pretty good indicator.
Man of the Match: Andrew Redfern