COPY AND PASTED
Career-best for Liam as Thirds fail in familiar fashion 
Camden (3pts) 131-9 lost to Chippenham (20pts) 132-1 by nine wickets
Never mind that Camden had, as recently as last week, lost batting first. Past performance is no guarantee of future results. We'll have a bat. In fairness, Captain Redders, hamstrung by availability and injury, lacked the horses for this green Queens' course. Chippenham, with thoroughbred Joe Heather opening the bowling, had no such worries. The visiting quick hadn't conceded a run when the second ball of his third over saw off Redders. Hitting two sumptuous boundaries, the Thirds skipper had found the going easier at the other end, but he was late on a short ball – the ball ballooning off glove and shoulder before the Chippenham 'keeper took a fine leaping catch. Hodsdon joined Sutton, but Redders' 13 was under more threat from Extras as the pair were content to see off the opening bowlers. In Heather's last over, Sutton cracked a square cut to the rope – but it was a rarity. With 45 on the board after sixteen overs, the value of having nine wickets in hand was questionable. Not as questionable as Sutton's shot selection, however. There might be logic behind reverse-sweeping a leg-spinner – it's with the spin. But the shot involves a certain pre-meditation, and Sutton (21) didn't get the ball he was hoping for. Too late to reverse the reverse, the bearded opener played "the worst shot of my life" – an upright reverse swat, the ball looping up off the glove to slip. Putting the dismal into dismissal. Hodsdon (5) and Prathyush (4) had already fallen to the same bowler, who was to pick up a five-for with the wickets of Krishna (9) and Ritish (12, including a cracking six). At 82-6, a third batting point looked a long way off. Robinson (17) found an ally in Wallman, however – the one-man youth policy hitting four meaty boundaries in a career-best 28 for the Thirds. The pair added 42 for the seventh wicket, before both fell – along with Karan – in a spell of 3-0 in six balls. Clarke (5*) clipped a delightful on-drive over mid-on, and with Rizwan (2*) took the score to 131-9 at the cake break.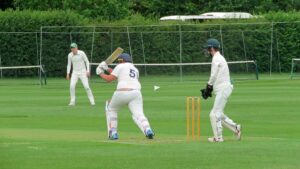 Not enough. Not nearly enough. With a grim inevitability, Chippenham strolled to victory in the twenty-second over. Karan took the one wicket to fall – caught by Sutton at extra cover— and, with figures of 7-3-17-1, was by far the pick of the bowlers. Rizwan, Ritish, Krishna and Liam toiled manfully, but couldn't stop the youthful Bobby East – warming up for a Suffolk Second XI appearance – from helping himself to 80 not out.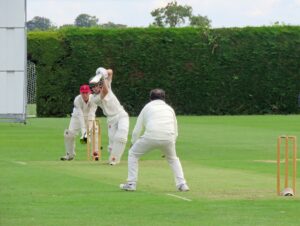 A nine-wicket defeat for the Thirds, then. It had looked like being a copy and paste of last week's match, but it ended up as just a pasting. What's that Einstein quote on the definition of insanity again?
Man of the Match: Liam Wallman