NEEDINGWORTH BRING THIRDS BACK TO EARTH
Robinson's record-breaking fifty goes in vain
Camden (7pts) 121-9 lost to Needingworth (20pts) 169-8 by 48 runs
With no fixture last week, Camden's unbeaten run had stretched to two weeks by the time they reconvened at Queens' to take on Needingworth. Despite insisting on locating his 'lucky' coin, Captain Redfern lost the toss. Recent rain meant that the pitch was as spongy as one of Mrs Sutton's cakes, so bowling first was by no means a disaster. Indeed, conditions proved favourable enough for the skipper to turn his arm over. By that stage, the visitors were 46-2 after ten overs – Tarun having bowled a tidy spell of 0-16, and Farid (2-35) having picked up two wickets with identical in-seamers. Redders kept things tight, conceding 22 from eight overs, and might easily have picked up a wicket. Prathyush's spilled chance at mid on didn't turn out to be particularly costly, however, as Adil (1-20) soon got his man – Karan with the catch at long on. 76-3 at drinks had, despite the introduction of Karan, swollen to 130-3 after twenty-nine overs. Krishna's first two overs had leaked 27 runs, so it was with some trepidation that the skipper – after much deliberation – opted to stick with the leg-spinner. The Bulusu upgrade rewarded his captain with a wicket maiden, and when Karan struck in the next over, the Thirds had removed the two set batsmen – including the opener for 63, thanks to Farid's superb catch in the deep. Krishna (1-42) continued his eventful day, sending down another maiden and narrowly avoiding being removed from the attack by an officious umpire for bowling beamers. Karan 'Deadly' Derekar (3-20) offered more control, and two more wickets – both bowled – evoked memories of his Swaffham Bulbeck heroics. A senseless last-ball run out – another echo from that famous win, albeit minus the one-man pitch invasion – meant that Needingworth finished up on169-8. It is worth noting that the visitor's second-top scorer was Extras (24).
It being John Sutton's seventy-fifth birthday, the cake break took on an extra significance. It soon became apparent, however, that the Thirds wouldn't be adding to the festivities. Vish had yet to score when he skyed to mid-on, and any hopes Will Sutton (4) had of giving his old man the gift of runs had evaporated long before the bearded opener somehow contrived to get a leading edge to mid off. Redders, bowled for a duck, was quicker with an excuse than he had been with bat in hand – and his side were going nowhere at 16-3 from eleven torturous overs. The home side had crawled to 37-4 at drinks – Prathyush (13), having hit two fine fours, the latest to fall. Robinson was still there, though, and the arrival of Krishna added some impetus to proceedings. The pair ensured a batting point, and were on the verge of adding a second when Krishna (23) was stumped. Harrison (1) fell the same way, after Adil (0) had been caught and bowled – leaving the Thirds on 79-7 after thirty-two overs. 120 and a third batting point looked a long way off, but Robinson and Farid (14) had other ideas – putting on an enterprising 41 for the eighth wicket. Nobody has scored more runs for the Thirds than Robbo, and the veteran ex-former-ex-all-rounder moved top of the list of half-century makers – a twenty-second fifty taking him ahead of erstwhile portly run machine and club President David Mitchell. It made no difference to the outcome, but it was a shame nevertheless when Robinson  was caught from the last ball of the match. With 61 of 121, Robbo had earned a much-coveted place on the list of those scoring half the runs or more.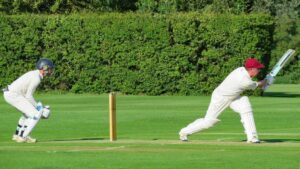 A 48-run loss doesn't sound too bad, but this was just as one-sided as the 112-run defeat at Needingworth. Still, Camden superfan Sutton Sr has watched enough cricket to have expected his old side to add to the early birthday present delivered at Swaffham Bulbeck. And even if this match might not be reminisced over in years to come, the sight of the old boy catching up with former Camden greats John Carter, Colin Fakes and Malcolm Taylor was a reminder of cricket's power to create memories.
Man of the Match: Steve Robinson